NEWS:
30 Aug, 2019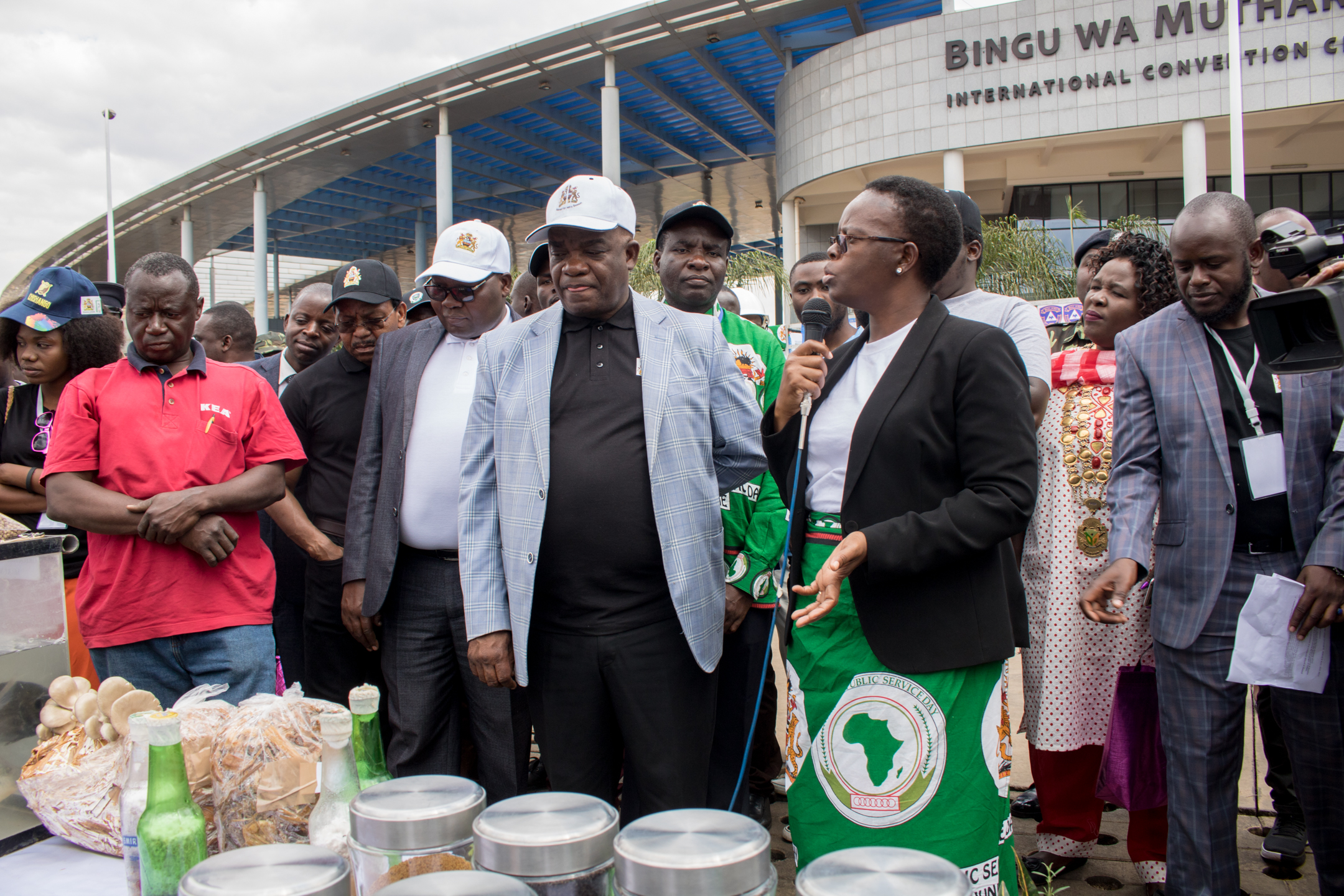 Acting Bunda College Director, Dr Mwangwela (holding a mic) explaining to the guest of honor services LUANAR offers at the university's pavilion during the commemorations
The Chief Secretary to the Government Mr. Lloyd Muhara commended LUANAR for coming up with innovations that are useful to the nation citing promotion of indigenous vegetable farming as one of the initiatives that could improve nutrition of the country.
This was said during the commemoration of Public Service day on 23rd August at Bingu International Convention Centre (BICC) in Lilongwe under the theme 'The Intersection of Youth Empowerment and Migration Entrenching a Culture of Good Governance, ICT and Innovation for Inclusive Service Delivery'.
LUANAR pavilion was one of the few selected pavilions where the Guest Of Honour. Mr Muhara. visited and was welcomed by Bunda Campus Director, Dr Agnes Mwangwera, who explained about all the innovations that were showcased.
A number of Bunda College of Agriculture departments and Natural Resources College departments showcased their technologies during this important event. Some of the technologies and innovations showcased included locally made juice extractor, locally made briquette making machine, indigenous vegetable seeds, fish species and products made from soy such as yoghurt, irrigation kits.
In his remarks Muhara appealed to public officers to practice good governance for an efficient and effective management and administration of the public service.
He assured of government's commitment in the promotion of all aspects of good public sector governance in order to ensure public confidence is earned through better decisions and actions that will benefit the people of Malawi.
The UN Public Service Day was designated by the United Nations General Assembly's resolution A/RES/57/277 of 2003, to "celebrate the value and virtue of public service to the community". It is held on June 23 each year and recognizes that democracy and successful governance are built on the foundation of a competent civil service. However, this year Malawi commemorated the day on 23rd August.