NEWS:
30 Jul, 2019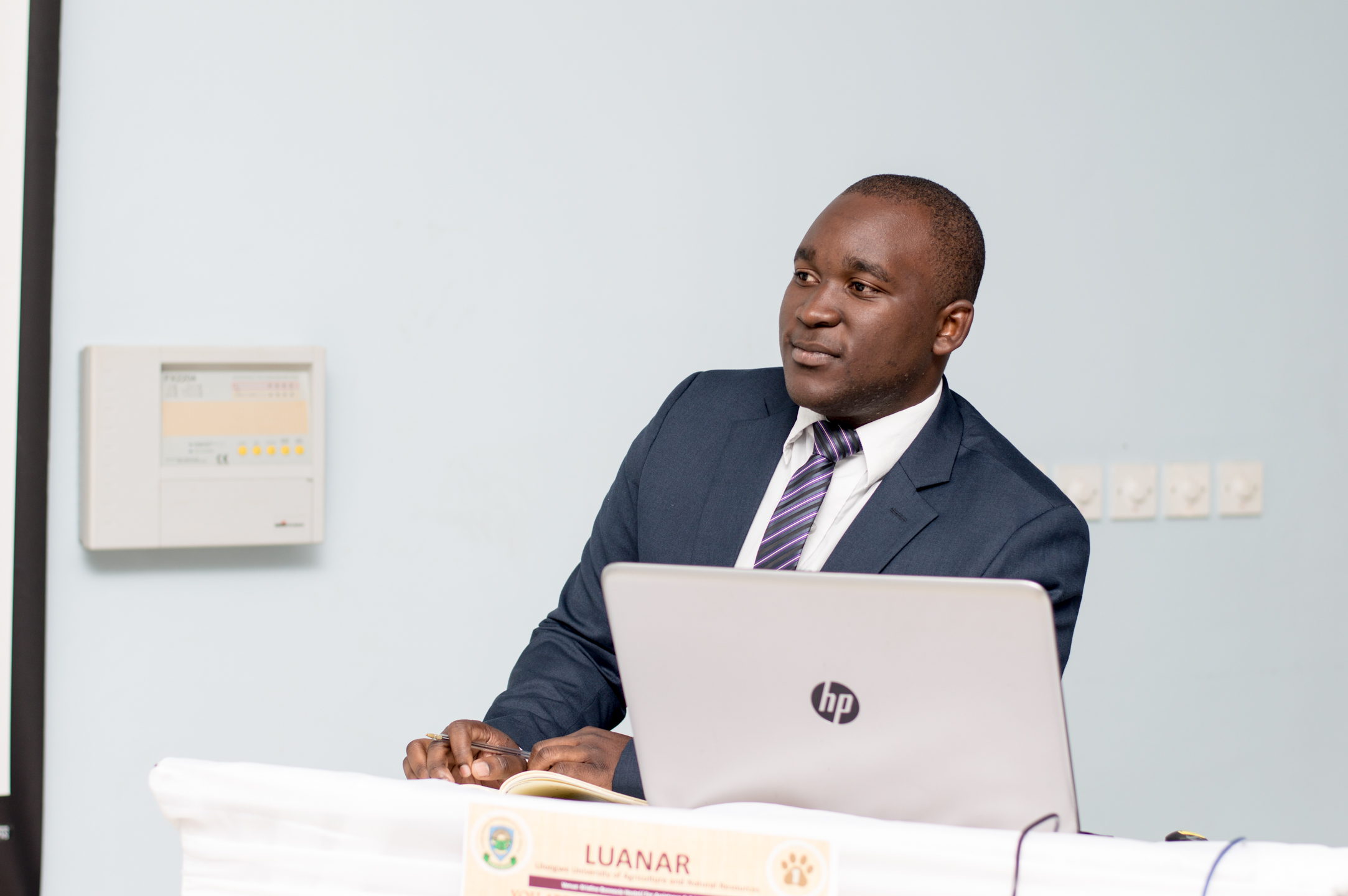 One of the students presenting his research project during the defense
The first cohort of locally veterinary doctors in Malawi is expected to graduate from Lilongwe University of Agriculture and Natural Resources (LUANAR). The group of students that has been pursuing Doctor of Veterinary Medicine at LUANAR's Bunda College has underwent rigorous training for six years. This has been made possible with support from both local and international institutions to the extent that some students did research components of their studies outside Malawi.
Speaking on Monday, July 29, 2019, when the final year students were defending their research projects, Head of Bio Veterinary Medicine Department at Bunda College, Prof. Melaku Tefera, said since there are few veterinary experts in Malawi, there is a need to increase the number to improve the quality assurance.
''This programme will change the veterinary system in Malawi in the sense that Malawi do not have enough human resource in the veterinary service and this program has been recommended by the National Council for Higher Education to improve the services rendered in the Malawi veterinary system".
He added that all examiners were impressed and gave good remarks that LUANAR is a world class university and that the students are bright and their work deserves to be published. Despite all the challenges that students faced in their six years pursuing this programme, they managed to cope with all situations and come up with good results demonstrating that they are ready and equipped to fill in the gaps that are there in Malawi Veterinary.
Speaking in his remarks on the event, Vice Chancellor of LUANAR, Professor George Yobe Kanyama-Phiri said, this is the first programme at LUANAR to have the robust presentation of external examiners and that this will help to put LUANAR on the map in achieving its goals.
''LUANAR Veterinary Graduate Students should probably compare with any other students in the world and this is mostly evidenced by the presence of a highly distinguished board of examiners from other Universities across the world.''
In his remarks, the Director of Animal Health and Livestock Production, Dr. Patrick Chikhungwa, who was the guest of honor, said this is a demand driven programme compared to all other programs in this country.
''This veterinary medicine Programme has specifically been demanded by government because of the serious problems which this country has been experiencing in terms of accessing the veterinary services and for this the government formed a taskforce to discuss on what can be done to improve the veterinary services in this country''. He said.
He continued that in the past years, all veterinary professionals were being trained outside Malawi but things started to change since it was more expensive to train them outside Malawi hence the need to make this program a success.
Chikhungwa concluded that the government will continue to collaborate with the University in making sure that this program is properly sustained. "More support will be provided to this programme in order to produce more graduates who will reach to the demands of veterinary services in this country." He said.
The Bio Veterinary Medicine thesis defense had six external examiners from different countries which included, Dr. Olafur Valson, Prof. Neil Sargison, Prof K.S. Nalubamba, Prof. Etana Debela Wako, Dr. Mkakosya Rahjab Sawasawa and Dr. Florence Mutua. This was the largest examination board that has ever been at Bunda Collage and due to this outcome; another support, worth 5 Million Malawi Kwacha, will be used to support the veterinary students in their research.