NEWS:
8 Jun, 2019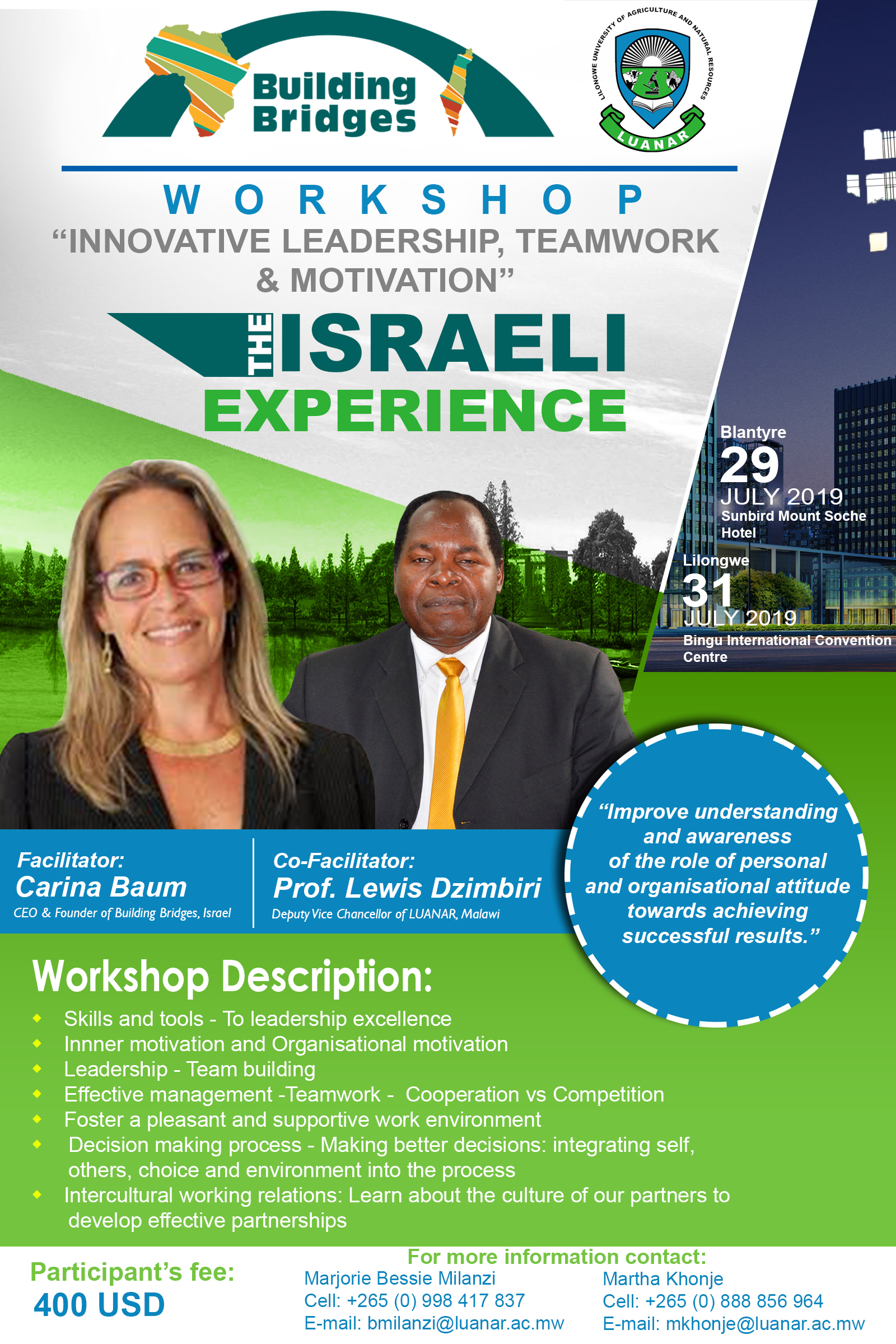 Workshop: "Creativity, Innovation & Entrepreneurship" The Israeli Experience
Building Bridges in collaboration with Lilongwe University of Agriculture and Natural Resources will conduct a workshop on "Creativity, Innovation & Entrepreneurship" The Israeli Experience .
DATE AND VENUE:
Blantyre:
29 July, 2019
Sunbird Mount Soche Hotel
Lilongwe:
31 July, 2019
Bingu International Convention Centre
OBJECTIVES:
During this 2 days in Country workshop, participants will be exposed to a variety of hands-on tools and team building strategies. All these are designed to improve understanding and awareness of the role of personal and organisational attitude towards achieving successful results. Participants will also have the opportunity to learn effective and practical skills in leadership, teamwork, think outside the box and more..
DESCRIPTION:
 Inner motivation and Organisational Motivation
 Teamwork - Effective management – Cooperation vs. Competition
 Foster a pleasant and supportive work environment
 Intercultural working relations: Learn about the culture of our partners to develop effective partnerships
 Leadership - Team building
 Skills and Tools - To leadership excellence
 Decision making process – Making better decisions: integrating self, others, choice and environment into the process
ABOUT THE LECTURER:
Carina Baum, CEO & Founder of Building Bridges is known and respected in the field for her ability to motivate and energize people. She has an upright philosophy about customer service and international relations; hence her attitude is highly inspiring and motivating. Her focus is on quality services and personal relations.
Carina's extensive experience in international relations, marketing, planning and organizing international conferences and events in Brazil and Israel are an asset to inspire diverse types of businesses and individuals achieve greater productivity and successful results.
WORKSHOP FEE:
400 USD per particpant
For more information, contact:
Marjorie Bessie Milanzi
+265 (0) 998 417 837
E-mail: bmilanzi@luanar.ac.mw
Martha Khonje
+265 (0) 888 856 964
E-mail: mkhonje@luanar.ac.mw