NEWS:
5 Apr, 2019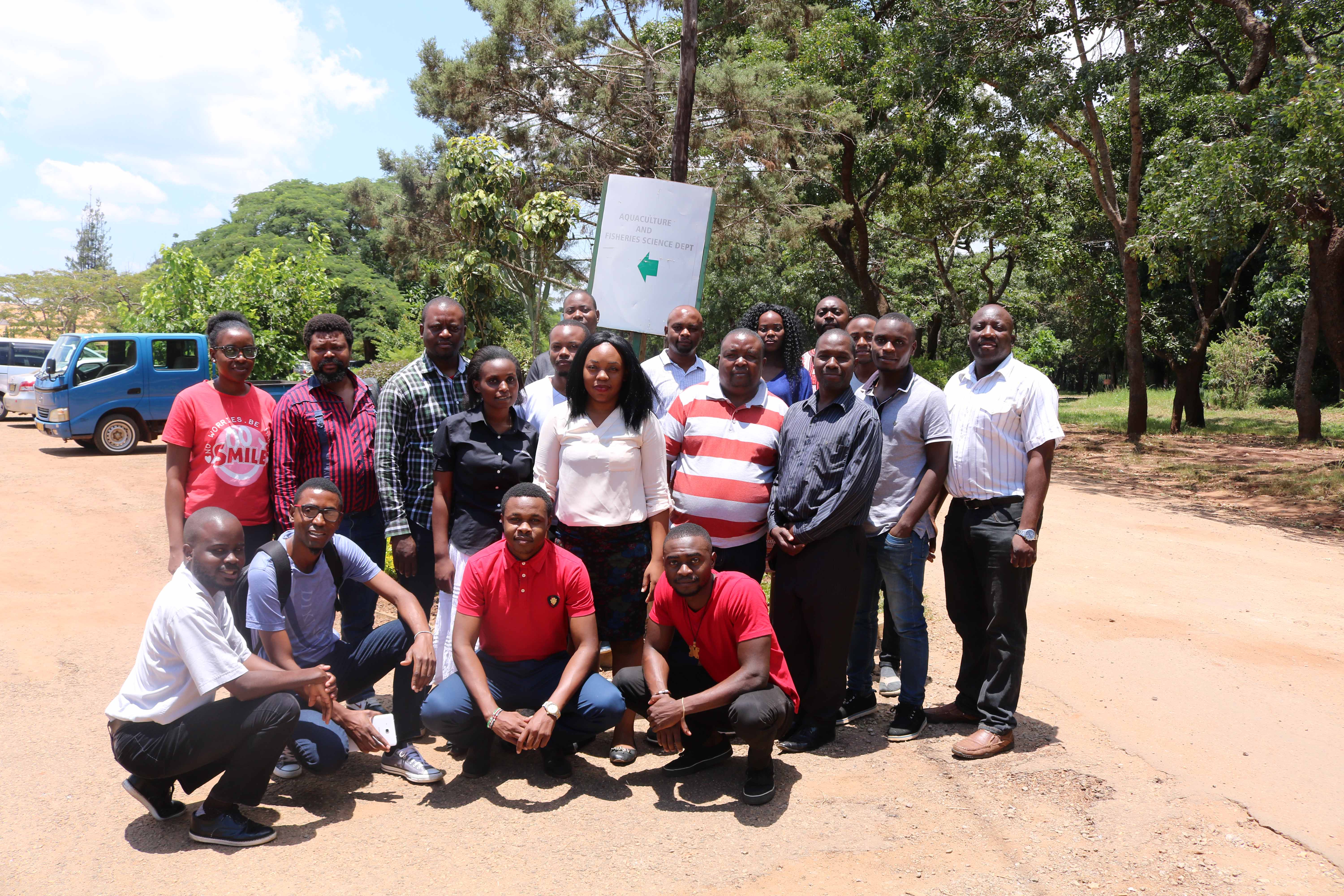 Students under the Aquafish centre pose for a group photo
The Africa Centre of Excellence in Aquaculture and Fisheries Science (AquaFish – ACE) has welcomed the highest intake since its establishment in August 2016.
Fifty-three students from African countries including Rwanda, Zambia, Mozambique, Namibia have enrolled in different programmes being offered at the centre.
Speaking in an interview, the Centre Director, Professor Emmanuel Kaunda said the centre is very proud with the increase in enrollment.
"This year the numbers of enrollment have risen. It only shows that the centre is now growing and it is gaining international recognition as we have seen students coming from different countries across the region," he said.
The leader echoed that the center's mission is to advance innovation and entrepreneurship by producing fit-for-purpose critical mass of agricultural scientists who will help enhance the food, nutrition and economic security of primarily the Eastern and South African region.
Commenting on the development, The AquaFish Deputy Director, Professor Daud Kassam said that one of the reasons that has led to this achievement is partnerships with other institutions.
"Some of the students who have come are being sponsored by our partners to study here especially students from Zambia. This is a good development as we can see that our partnerships with other institutions are now bearing fruits," Professor Kassam said.
Professor Kassam also added that having regionally accredited programmes has played a major role in attracting students from the region to the centre.
The students will be studying PhD and Masters programmes which are offered at the centre.
The new students are equally overjoyed to join the center in pursuit of quality postgraduate education. Kauluma Ndamononghenda, a PhD student in Aquaculture and Fisheries from Namibia said she is so excited to finally be here at AquaFish.
"I have been hearing a lot of stories about how great the centre is with some of the best learning and research facilities in the region so to finally be here is very exciting," she said.
Further, Uwase Maric Lovise, a Master's student in Aquaculture from Rwanda also expressed her joy for finally being at AquaFish.
"I have been seeing pictures and videos of the centre on internet but I never expected it to be this good. I am definitely loving it here and I hope I will get the best education," she said.