NEWS:
4 May, 2019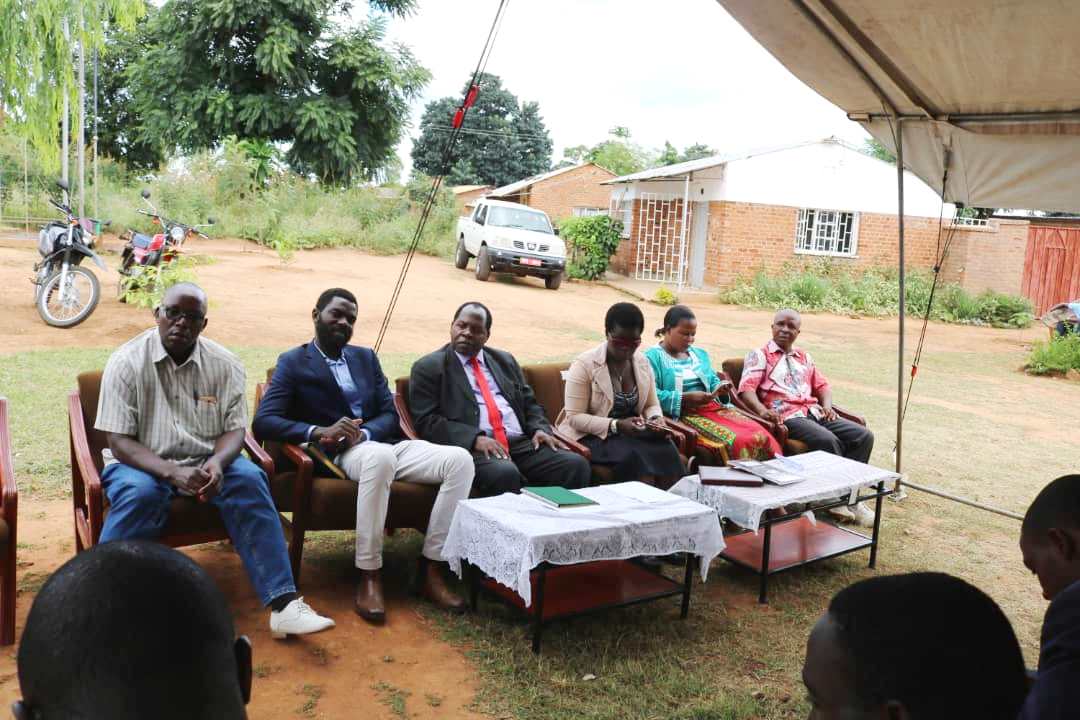 Professor Dzimbiri (3rd from left) flanked by LUANAR's Director of research and outreach, Dr Matumba (L) and Phalombe District (R) at the handover ceremony
Lilongwe University of Agriculture and Natural Resources (LUANAR) have urged farmers in the country to utilize agriculture information technologies to mitigate climate change. The call comes as most farmers are currently nursing the effects of climatic shocks that hit the country such as droughts and floods.
Speaking during a handover ceremony of a Resource Centre in Phalombe district on Thursday 2nd May 2019, Deputy Vice Chancellor of LUANAR, Professor Lewis Dzimbiri said most of the problems affecting local farmers are due to the information gap that exists among them. He said the recent research has found that most of the farmers in rural areas do not know information about modern agriculture practices and the indigenous cropping.
"We know through research that most of the challenges that famers in Malawi especially in Phalombe are facing due to climate change are because of lack of knowledge. They have no information of what is happening." He said.
LUANAR, through the Capacity Building for Managing Climate Change programme (CABMACC), donated an information resource centre in Phalombe district to help farmers have access to information that will help them to adapt and militate against the negative impacts of climate change.
"At LUANAR we train young people to become extension staff at various Extension Planning Areas (EPAs). However, not all farmers can come to LUANAR and learn. They may not be qualified and some may not afford school fees. So instead we had to create a centre through CABMACC to allow farmers around to come and access information about modern farming and how to mitigate climate change effects to ensure that their agricultural productivity is very high," added Professor Dzimbiri.
District Agriculture Development Officer for Phalombe, David Ali, thanks LUANAR for the donation, saying the establishment of the resource centre in the district is going to help farmers have access to vital information on improved farming which will enable them mitigate and adapt the effects of climate change.
"Indeed I need to appreciate what LUANAR has done by giving us this resource centre. It will assist us in disseminating information of different technologies which is required when farmers are doing their day to day activities. We have information on how to grow indigenous vegetables, information concerning improved crop varieties, how to improve our livestock and biodiversity." He said.
The resource centre has books of different kinds for both adults and children, and also a computer. It is envisaged that farmers will utilize the information that they will be getting from the resource centre to improve their livelihoods.
CABMACC is a Norwegian government funded programme that is being undertaken collaboratively by LUANAR and Norwegian University of Life Sciences.