NEWS:
6 Apr, 2019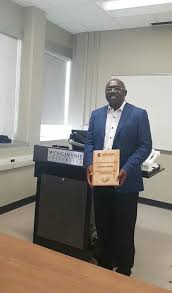 Professor Kaunda holding his award
Professor Emmanuel Kaunda of Aquaculture and Fisheries Science Department , was on 4th April 2019 awarded a Robin Welcomme Fellowship for the Promotion of Responsible Inland Fisheries by Michigan State University (MSU).
The fellowship is awarded to scientists as a recognition to distinguished scientists for their contribution to inland fisheries. It is also meant to foster more collaboration between the Awardee's institutions and MSU for the broad world outreach of MSU.
Professor Kaunda, whose Inaugural lecture was titled "The trail and value chain of the Lake Malawi Usipa (Engraulicypris sardella) from production to consumption: The role of the small pelagic in food and nutrition security as well as household income", said he has a lot of plans to be implemented under the fellowship.
"A number of outcomes have been planned for the Fellowship to advance the agenda of the small cyprinid value chain that was identified during the MSU-FAO-LUANAR workshop in 2018,"
Professor Kaunda cited the deepened collaboration between MSU (Fisheries and Wildlife Department) and LUANAR (Aquaculture and Fisheries Dept, ACE, NEPAD Fish Node),fisheries collaborative activities, enhanced MSU and LUANAR Students experience through the exposure to global issues and joint resource mobilisation for fisheries development and especially Usipa Value Chain, as some of the planned outcomes.
Professor Kaunda is the Former Deputy Vice Chancellor (2013-2017) of LUANAR and Vice Principal (2004-2006) of Bunda College of University of Malawi (2004-2010) and is currently the Centre Leader of the Africa Centre of Excellence (ACE) in Aquaculture Fisheries (AQUAFISH) and Technical Coordinator of the NEPAD Regional Fish Node- SANBio at LUANAR.