NEWS:
4 Apr, 2019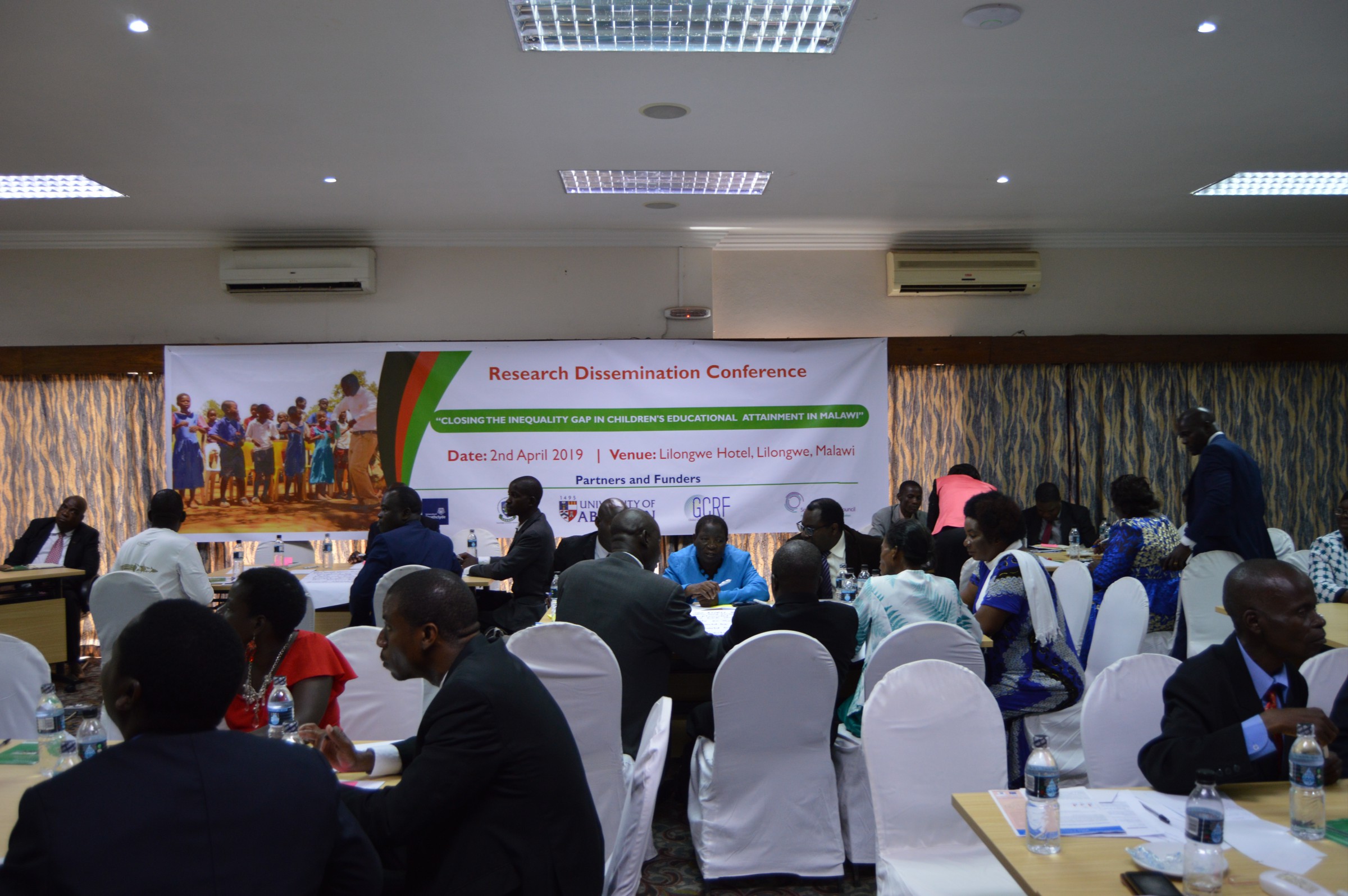 Cross section of the participants at the dissemination conference
Research conducted by the School of Education at University of Strathclyde in the UK in collaboration with Lilongwe University of Agriculture and Natural Resources ( LUANAR) and the University of Aberdeen in the UK, has revealed that there are gaps in the education attainment by children in Malawi.
According to the research, inequalities starts as early as in preschool, saying children from middle-high income households are about 2.5 times more likely to identify 10 letters of the alphabets compared to low income peers, while those in urban areas are about 3 times more likely to demonstrate this skill compared to their rural peers hence these early inequalities are likely to lead to further disadvantages once children start formal schooling.
The research also highlights that in primary schools serving children from disadvantaged backgrounds, fewer children progress to national, conventional or community day secondary schools at the end of the Primary School Leaving Certificate Examinations, saying these schools tend to have low secondary school transition, high standard eight repetition rates and dropout.
In an interview, Lead researcher, Dr. Edward Sosu, said it is important to look at these inequalities so as to provide solutions for the development of education in the African continent.
He said preschool provides the foundation for learning in formal school and this is a stage of rapid developmental changes, therefore, if gaps at these stages are not closed,they widen through life.
He said evidence from 2007 SACMEQ results indicate that a higher proportion of children from wealthy backgrounds (73%) achieve minimum standards in reading in standard Six compared to those from poor backgrounds (58%).
"Overall, recent primary school achievement data looking at socioeconomic inequalities in Malawi is not readily accessible. This school achievement data is required to better guide policymaking," said Dr Sosu.
He said the research recommended the need for education data from multiple sources to clearly highlight inequalities in learning outcomes, saying this will help raise the issues of educational inequality within the policy agenda and also evaluate progress in reducing inequality across time.
"Inequalities in learning outcomes begin at preschool and widens as children go through the education system. Closing the gap requires efforts at all levels of the education system. Another recommendation is the need for multi-sectorial approach to address inequalities in learning outcomes given that these inequalities are due to the effects of multidimensional poverty," he said.
Dr Sosu added that apart from poverty, there are sociocultural, educational and policy practices that influence learning outcomes, saying existing positive practices need to be harnessed while negative ones need to be addressed.
The research dissemination conference whose theme was "Closing the Inequality Gap in Children's Educational Attainment in Malawi" took place at Lilongwe Hotel on 2nd April 2019.