NEWS:
17 May, 2019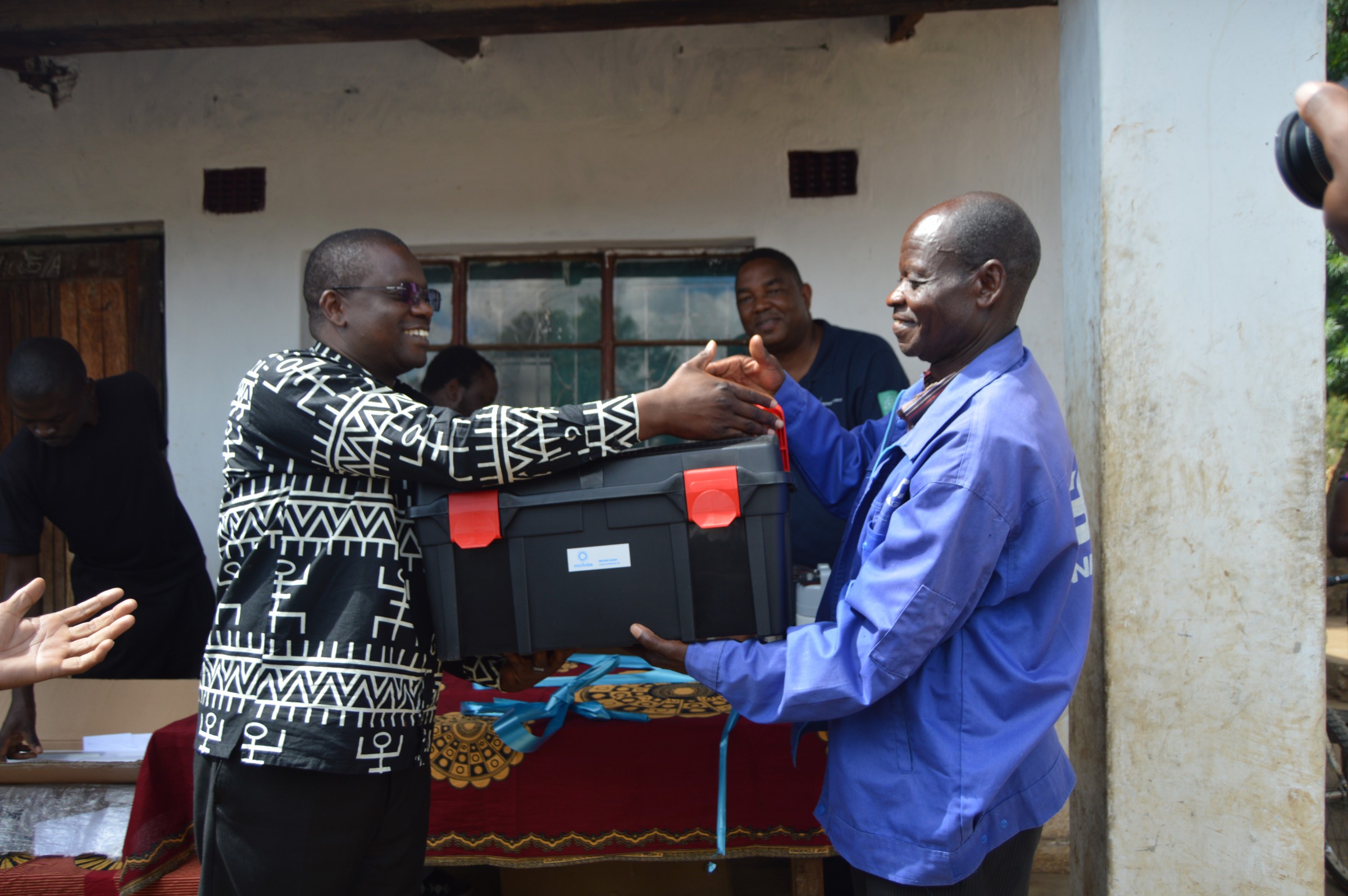 Kumwembe handing over the kit during the ceremony
The Lilongwe University of Agriculture and Natural Resources (LUANAR) through the Capacity Building for Managing Climate Change (CABMACC) programme on Friday, 17th May 2019.handed over artificial insemination kit and a homogenizer to Dzaonewekha Milk Bulking Group at Linthipe EPA of traditional Authority Kaphuka in Dedza.
The artificial insemination Kit worth MK2, 491,223.25 will help to ease detection of heat in cows and facilitate insemination while the homogenizer worth 4,485,250.00 will to enable the cooperative to improve quality of their processed milk for on-site packaging and sales thereby earn more money to improve their living standards.
Speaking at the handover, the Guest of honor who is also Chairperson of CABMACC Programme Advisory Committee and Chief Director of Environment and Climate Change Management, Mr. Bright Kumwembe said what was lacking for the community to be able to produce milk and add value to make sure they make more money is new technologies.
"It is very pleasing that what we had promised had been delivered and the farmers are happy in such that once Malawi Bureau of standards has given them a certificate for them to start processing and selling to anybody that wants because they will be packaging the milk and they will make more money than they are currently doing.
"We are happy that the artificial insemination kit will make a difference because when CABMACC came into this place they were only getting 4.3 liters per cow but now they will be able to get 13.5 litres to get 13.5 liters per cow per day and this is a great achievement," said Kumwembe.
Speaking on behalf of the group, the chairperson for Dzaonewekha Milk Bulking group, Mr. Ignacio Mkakama thanked LUANAR for the donation; saying this will bail them out of the challenges they been facing in producing good quality milk.
"Dzaonekwekha group has been facing a lot of challenges due to lack of equipment such as this homogenizer to produce quality milk since 2011, but now this equipment will help us to be able to produce and sell milk on our own" said Mr. Mkakama.
Dzaonekwekha cooperative started in 2011 and has now almost 200 farmers.