NEWS:
26 Apr, 2019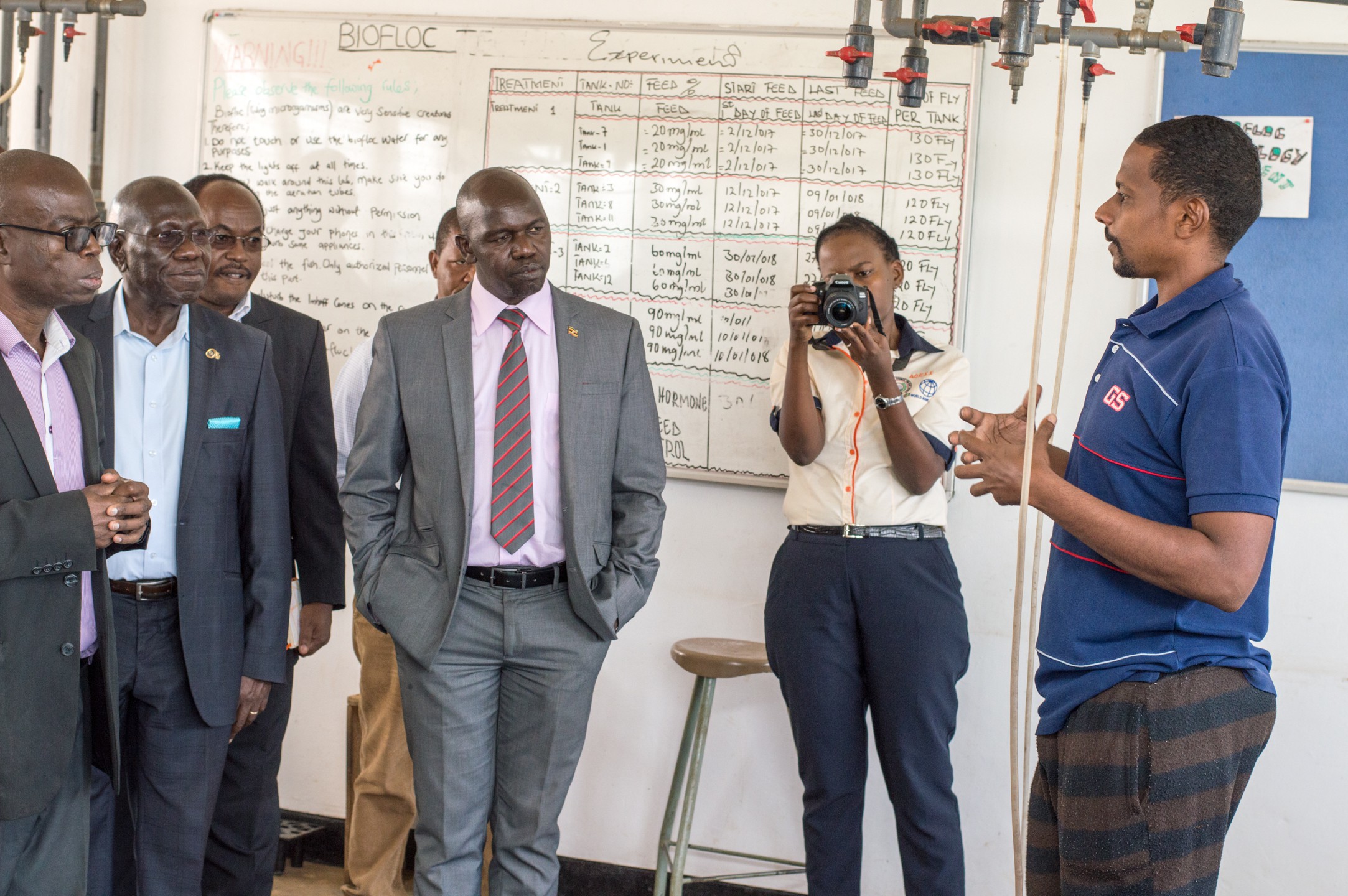 Aquaculture and Fisheries PhD student, Mohammed Ahmed explaining his research to the IUCEA visiting team
The Inter University Council for East Africa (IUCEA) has applauded The Africa Center of Excellence in Aquaculture and Fisheries Science (AquaFish-ACE) for the tremendous progress in its projects during a joint meeting by the World Bank, IUCEA, AquaFish-ACE and AquaFish-ACE's partners which was conducted on 23rd April 2019 at the Programmes Coordinating Office Boardroom.
Speaking in an interview, the Deputy Executive Secretary of Inter University Council for East Africa, Prof. Mike Kuria said the purpose of the meeting was to check the progress of the center.
"We visited AquaFish-ACE to check the progress towards what they committed themselves to in terms of students admissions, research and whatever is going on at the center," he said.
"We are impressed from what we have seen. The facilities are very good and we saw what the students are actually doing. We met a PhD student who explained the research that he is doing so we see that AquaFish-ACE has made good progress in preparing the students in the aquaculture and fisheries sector," he continued.
The World Bank senior education specialist, Ms Innocent Mulindwa said she was happy the IUCEA team came to check on the center's progress.
"I am very happy that IUCEA made time this year to come and visit the center because when we get visited by external teams we feel energized and we run a lot especially with the input from expert teams that they come with. From the bank we normally provide general guidance but we rely on the technical specialties to check on the technical progress of the centers," she said.
Speaking after the meeting, the Center Director, Professor Emmanuel Kaunda thanked the IUCEA for their continued support towards the Center's project. He said the center in now motivated to do more.
"We are happy that we had a very fruitful discussion with IUCEA particularly on issues that were not very clear. This has energized us to do things in a much better way than before," he said.
"As for progress, the center is progressing very well. We have achieved quiet a lot in terms of student recruitment, partnership building, research publications and in general institutional growth. For example we now have about 15 PhD students which is the highest number we have ever achieved since the establishment of the center in 2016," Professor Kaunda said.
The visiting team toured Bunda campus, where the Center is based. During the tour, the team visited AquaFish's teaching and research facilities including the fish ponds and the state of art solar powered hatchery.
The IUCEA team was in Malawi for two days visiting the two centers of excellence in Malawi namely The Africa Center of Excellence in Aquaculture and Fisheries Science and The Africa Center of Excellence in Public Health and Herbal Medicine at College of Medicine.