NEWS:
8 Mar, 2019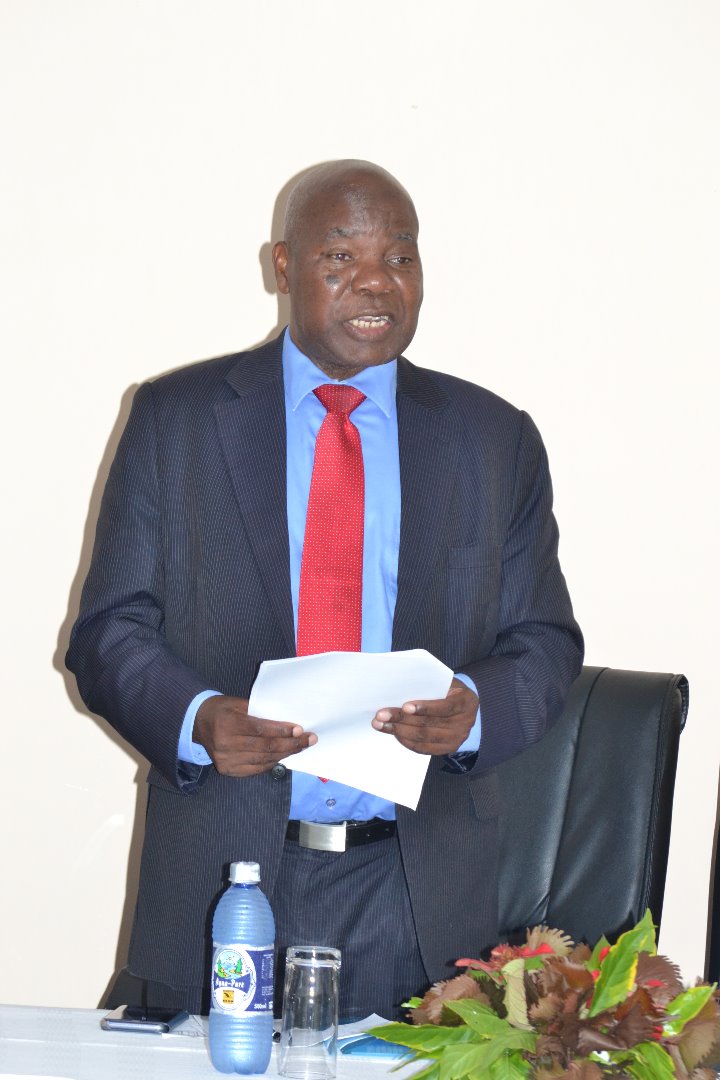 LUANAR Vice Chancellor, Proffessor George Kanyama Phiri Speaking at the official opening ceremony of the write-shop
The Lilongwe University of Agriculture and Natural Resources (LUANAR), through its Directorate of Research and Outreach with support from the Capacity Building in Managing Climate Change (CABMACC) Programme, organized a three-day 'Proposal Writing and Development, Resource Mobilization, Scientific Writing Write-shop' for its young faculty. This came about as a way of enhancing the capacity of LUANAR researchers to improve chances of success in proposal development as well as increase ability for LUANAR Staff to mobilize resources and enhance capacity for scientific management.
In his speech at the official opening ceremony of the write shop, the Vice Chancellor of LUANAR, Professor George Kanyama Phiri, highlighted that research and development programmes are an essential part of any University as they are critical for fueling innovation and increasing productivity in universities.
The Vice Chancellor further emphasized that through research and innovation, LUANAR wants to inform sound public policies that are efficient in enhancing education and cultural life, in eliminating poverty, and in creating the conditions for a meaningful life.
"Through our research, we want to confront big questions such as climate change; and we want to be at the forefront of the great scientific quests of the day such as developing drought resilient cultivars or indeed developing theories of extensions models just to mention a few. We would like to deliver internationally high-quality research, with lasting academic value, and which positively impacts and enriches society" he said.
In his welcoming remarks on the first day, the Lead Facilitator for the write shop, Professor Emmanuel Kaunda, said he was very excited that the write shop materialized as LUANAR has a vibrant younger generation of active and aspiring scientists that are willing to learn more. Therefore, grilling the young scientsits in such a fashion shows the seriousness of the institution and its desired future, as people should not talk of agriculture without LUANAR. He further said that for the University to grow, there is need for such kind of society where teaching and learning as well as publishing research results is at the core of its activities.
The Director of Research and Outreach, Dr. Limbikani Matumba, highlighted that the need to mobilize funding by younger faculty members is more pressing now than before as access to funding has become more competitive and more pressing than before.
For LUANAR, he said, the situation is just as pressing as most of the young Faculty members have not been inducted in proposal writing. As a result, projects are secured by more senior staff who have been in the business for a long time.
LUANAR deemed it important that mentorship programs be held to reduce the intergenerational divide, hence the senior members of staff inducting the Junior staff at this write shop. LUANAR has focused the training on scientific writing which is crucial to the University's young faculty as they need such skills in order to publish in good and reputable journals or books. The young faculty has been encouraged to publish as well as communicate their research publications.
Being the experts in the agricultural sciences, the nation will need an archive of such publications for reference to assist with issues like policy making as well as theoretical and practical advice and guidance on agricultural issues.
The write shop was officially opened by the Vice Chancellor of LUANAR, Professor George Kanyama Phiri and ran from 7th To 9th March 2019 At Nkopola Lodge In Mangochi.