NEWS:
8 Mar, 2019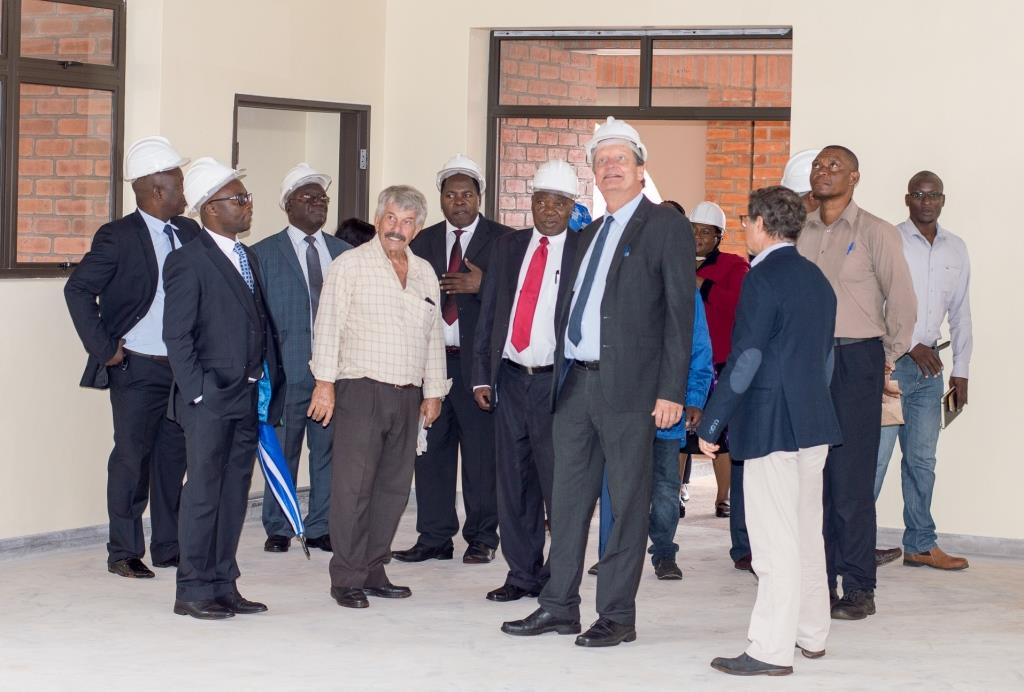 The Norwegian Ambassador touring the teaching complex under construction at Bunda campus druing his visit
The Norwegian Government says it is planning more support to Lilongwe University of Agriculture and Natural Resources after being impressed with progress of the projects it has been sponsoring.
The Norwegian Ambassador to Malawi, His Excellency Steinar Egil Hagen, made the remarks on Thursday, 7th March 2019 when he toured LUANAR's Bunda Campus. The ambassador visited the campus to familiarize himself with the University and to check progress on the projects that his government has been supporting.
Speaking in an interview, Hagen said he is impressed with how the University is utilizing funds it is receiving from the Government of Norway.
"I am absolutely impressed with the progress here. I have seen the girls' hostels which the university has constructed with funding from the Norwegian Government. This means that female students now have a safe environment where they can sleep in. I also visited the teaching complex and I saw nice works there," said the ambassador.
Hagen therefore said that his government is planning to support more programmes at the University in the future and a team from the embassy will visit LUANAR in April this year to map the way forward.
LUANAR Vice Chancellor, Professor George Kanyama Phiri hailed the Norwegian Government for the continued support they have been rendering to Bunda Campus since 1998.
"As LUANAR, we are very grateful to the Government of Norway for their support for 20 years now. They are building a teaching complex for us which will solve our problems of few teaching space. They have also supported us in construction of two female hostels. Besides that, they have helped us improve sewer system and have supported us in improving water supply on campus," said Professor Phiri.
Programmes Coordinator at LUANAR, Dr. Andy Safalaoh, said they hope that they will continue the relationship between LUANAR and Norwegian Government when the CABMACC programme phases out.
"As of now, the CABMACC Programme is at no cost extension and we hope that we will continue to collaborate with the Government of Norway through the Norwegian University of Life Sciences. We hope that after the CABMACC Programme, we will prepare a post-CABMACC Programme and we will submit the proposal to our partners in Norway for future support." He said.
Dr. Safalaoh continued to say that he sees the projects being sustainable after the Norwegian Government's support.
During the visit, the Ambassador was briefed on the Capacity Building for Managing Climate Change (CABMACC) Programme, a collaborative programme which is being implemented by LUANAR and Norwegian University of Life Sciences.
He also toured teaching complex B, which is currently under construction, and two female hostels which were constructed under the Infrastructure Development Programme (IDP) and Norhed Project respectively.
Both the CABMACC and IDP programmes, and Norhed project, are being sponsored by the Norwegian Government.