NEWS:
25 Jan, 2019
Share this Article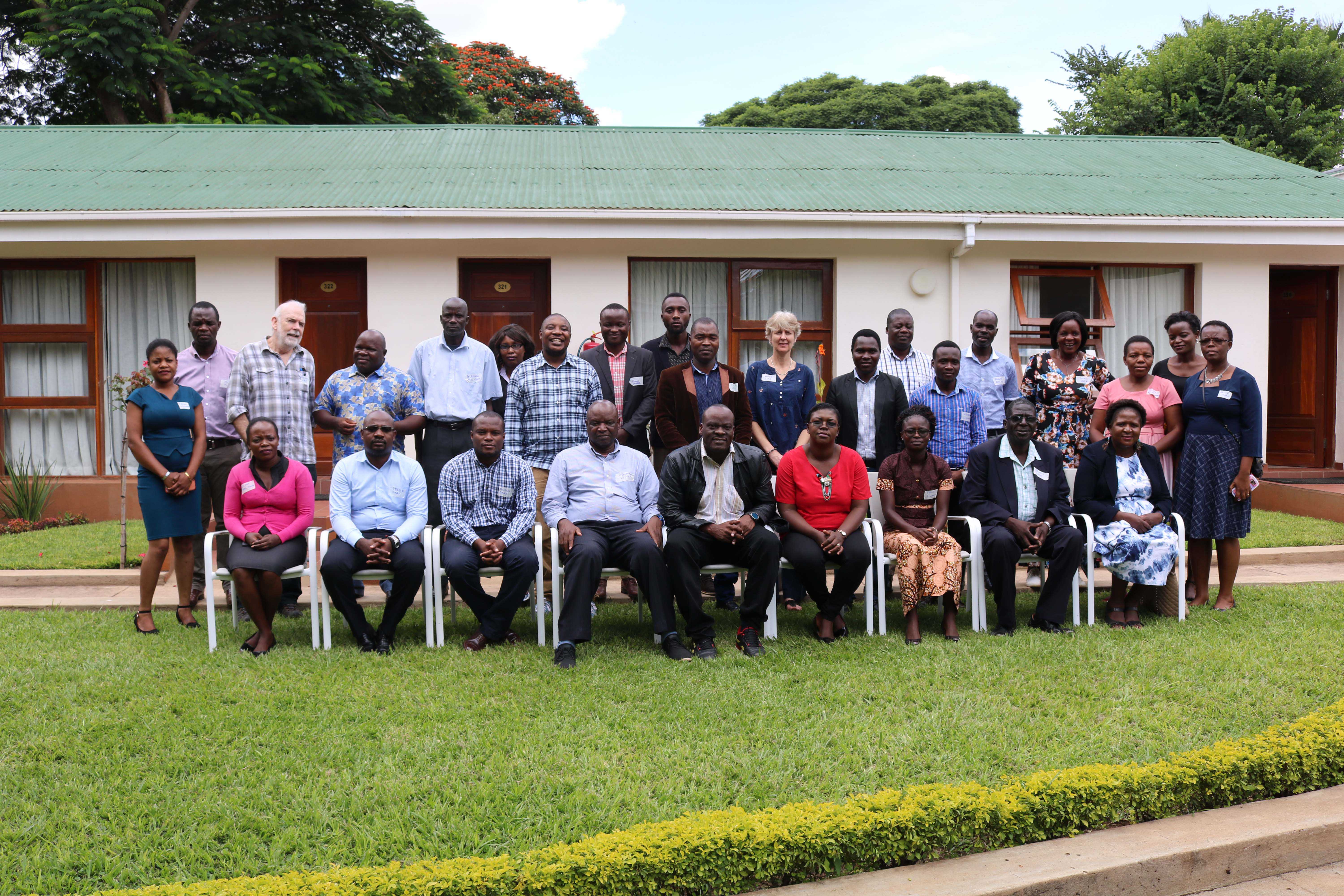 AEI stakeholders pose for a group photo at the meeting
The Lilongwe University of Agriculture and Natural resources (LUANAR), through its Crop And Soil Sciences Department, is implementing the Agro-Ecological Hub for Scaling Out Agro-Ecological Intensification (AEI) in Maize – Legume Systems, with support from the McKnight Foundation of the USA.
The main aim of the hub is to bring together researchers in legumes, soils, and enhance participation of farmers, extension workers and farmer organisations to function as a network that supports research and responds to challenges and opportunities facing smallholder farm families in complex, risk prone environments.
Principal Investigator of the project, Professor Vernon Kabambe, said the hub's focus will be on extending knowledge on best practices in agro-ecological intensification.
"We know we have best practices in agriculture, so we want those to be expanded to areas they apply. In other areas, trying to adopt and extend these practices will be problem so we will conduct research just to make sure that where technologies are not adaptable, they can be adapted," he said.
Professor Kabambe said the hub will also solve farming constraints which stakeholders, may not be paying attention to because, in many cases, farmers have failed to get bumper yields because of other problems such as soil constraints, acid soils or failing to conserve water.
The Department organized a two day inception meeting of the hub on Thursday, 24th and Friday, the 25th of January 2019 at Sunbird Lilongwe Hotel in Lilongwe.
The objectives of the meeting were to bring together immediate AEI stakeholders at national level and from proposed project sites to be briefed about the project.
Researcher in Social Sciences working with the McKnight Foundation, Kate Wellard, said the meeting was a success because they managed to understand initiatives which are already being implemented in various districts and elected a group to help in networking so as to achieve the aims of the hub.
"The idea was to bring together AEI stakeholders to share experiences on agro-ecology, on working with farmers and also about engaging in some of the big problems facing the country like environmental and food security problems. The group nominated a working group so that group will meet to plan out the next activities of the hub," said Wellard.
Principal Agriculture Research Scientist in the Malawi's Department of Agriculture Research Services (DARS) based at Chitedze Research Station, Justus Chintu, said the hub is very important mainly because it is for the purpose of scaling out technologies involved with maize and legume systems, and will help them to reach out to farmers with new technologies easily.
"My job as a ground nut breeder within the legumes team at DARS is to develop ground nut varieties which can be used by farmers. For the technologies that we release to reach farmers, there is some mechanism that has to be followed and the hub fits in, in such a way that it will help to scale out any technology that DARS develops." He said.
Chintu added that they will involve farmers in the research activities because they are the end users of any technologies that are developed. "We have to involve farmers in every research because any technology that will be developed has to be adopted by farmers," added Chintu.
And also commenting on the importance of the hub, District Agriculture Development Officer for Dedza, Osmond Chapotoka, said it will provide a linkage between the researchers, extension workers and farmers.
"Farmers will be able to voice out issues that are affecting them and the researchers will be able to take up those and help out with research to come up with solutions to problems the farmers are facing. Through these linkages, the extension workers will also have knowledge to assist the farmers better." He said.
During the meeting, principles of AEI were presented and discussed relative to Malawi and project sites.
The hub's activities will be focused in areas such as Ntcheu, Dedza, Lilongwe and Kasungu but in terms of knowledge sharing, they will target all districts by using key stakeholders that can spread the message to the rest of the country.