NEWS:
5 Dec, 2018
Share this Article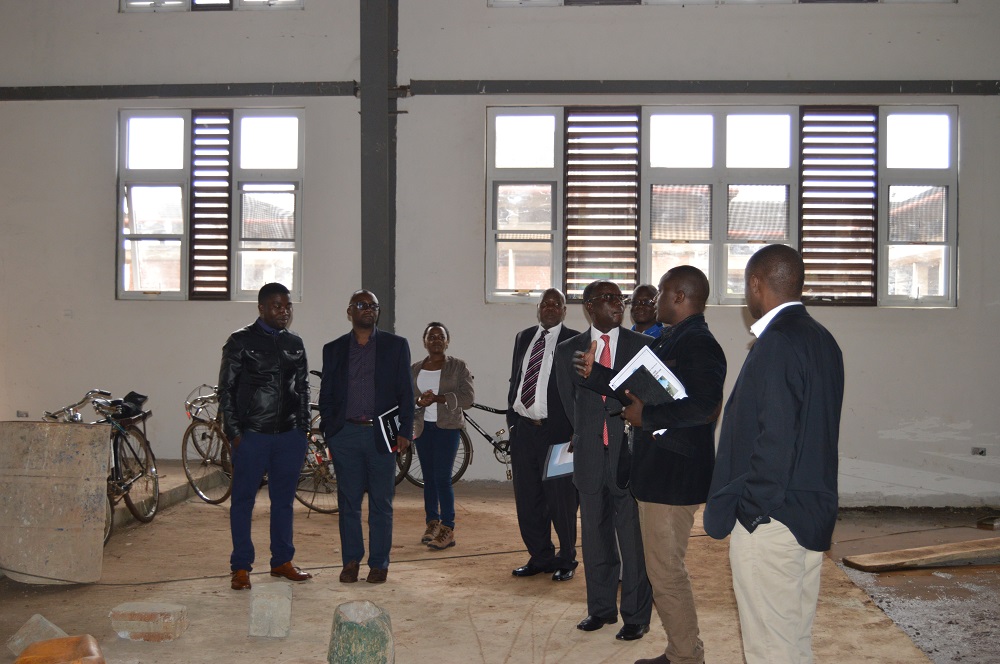 PIL Board Chair, PIL CEO, LUANAR VC, University Registrar and other members of staff appreciating the progress made on the construction of the hall
Petroleum Importers Limited (PIL) on Friday 30th November 2018 donated MK20 000 000 towards the completion of the multipurpose hall at LUANAR Bunda Campus.
PIL Board Chairperson Mr. Charles Chuka said in a sideline interview that his organization focus on education and health saying it was for this reason that they came forward to support LUANAR in the construction of this hall.
"Education is one of our areas of concern this is why we chose LUANAR knowing that students were gathering in a marquee which was temporary hence that there was need for the University to have a larger more permanent facilities for the students to learn in a more conducive environment," said Mr. Chuka.
He said PIL was impressed with the progress that has been made in constructing the hall that will be able to cover 1000 students at once and even be demarcated it to have even fewer numbers.
"The hall is modern and will really create a conducive environment for learning. We are happy how the faculty, the University Vice Chancellor and his team are working very hard to complete this by end of this year so that come January the students can start using the hall with good facilities," he said.
He said his organization is aware that cost of the project has increased saying it was for this reason that they decided to donate an extra MK20 000 000 so that the project can be completed on time.
In his remarks, LUANAR Vice Chancellor thanked PIL for assisting LUANAR through the additional donation of K20 million.
"The donation you have made to us will go a long way to assisting millions of people in the country. Such is the case because LUANAR continues to train experts in agriculture which forms the backbone of the country's economy," said Professor George Kanyama Phiri.
He said the establishment of LUANAR in 2011 coincided with the Malawi Government policy on increasing access to higher education saying in line with this policy, LUANAR increased its intake from 200 to 800 per year which led to challenges of classroom space.
"As a temporary measure management decided to erect a marquee to be used for teaching and learning. However, there have been a number of challenges that both staff and students faced in using the marquee," he said.
He said the decision was to construct a multipurpose hall which, among other things will be used for teaching and learning for the inevitable large classes saying the project estimated cost is MK180 million.
"In its first gesture PIL donated MK100 million and this funding was put towards procurement of Structural Steel from China and this was delivered and has been erected," said Professor Kanyama Phiri.
Professor Kanyama Phiri urged other organizations to emulate from PIL and assured them that LUANAR will make use of this money for the intended purpose.
Apart from the hall, a number of construction projects are taking place at LUANAR and this is expected to change the face of the University.