NEWS:
3 Dec, 2018
Share this Article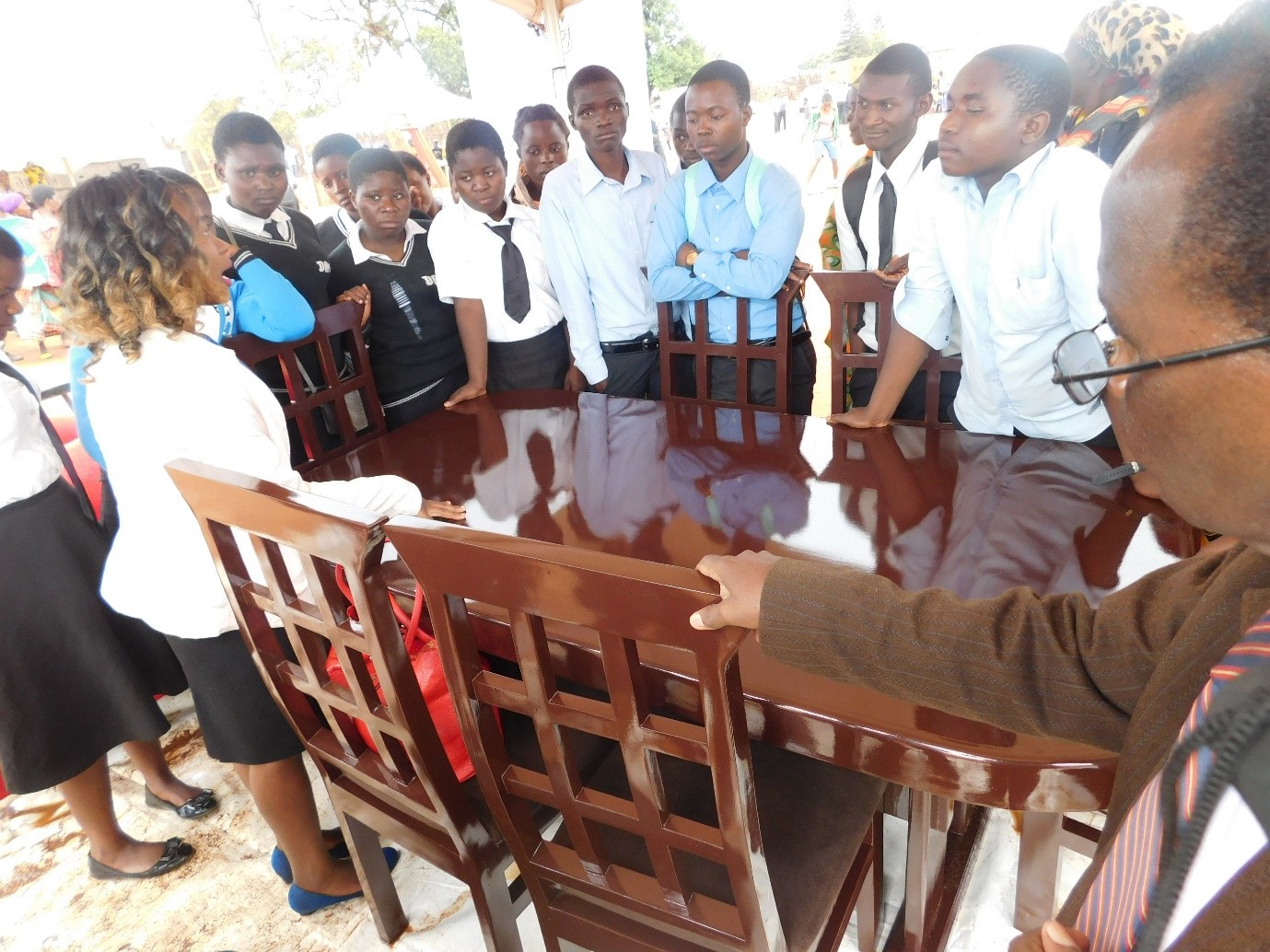 Students admiring Davina furniture's luxurious dining set
Lilongwe University of Agriculture and Natural Resources (LUANAR) partnered government in facilitating the TEVET skills show. The show was simply described as an eye opener by one of the secondary students that patronised the event.
The skills show which took place at Mponela Community Centre ground aimed at bringing together different stakeholders in the TEVET sector to showcase various TEVET trades products to prospective TEVET students, parents, teachers and stakeholders.
About 80 students from Dowa Secondary school and Mponela Community Day Secondary School attended the function. Primary school pupils, business persons and people from around Mponela trading centre also attended the event.
The event took place on the 19th of November 2018. Trades on display included furniture, shoe making, welding, plumbing, tailoring and design just to mention a few.
The skills show was made possible with co-funding from the International Development Research Centre (IDRC) Skills for Employment Project hosted by Extension Department at LUANAR, TEVETA and the Ministry of labour.
Speaking in an interview during the event, Loveness Mgalamadzi one of the researchers from Extension Department said LUANAR as an academic institution recognises the importance of having a skilled work force in whose abscence no country can sustainably develop. Hence they embarked on a study to identify issues surrounding negative attitude towards TEVET courses among the young people.
"As a project we have been conducting a study to unearth bottlenecks that make TEVET courses unattractive among young people. We have made suggestions to relevant authorities to address issues identified so that more capable young people enrol into these technical programmes. It is envisaged that the more youth trained in these trades coupled with entrepreneurship skills will result in self-employment and job creation," said Mgalamadzi.
On his part, the head of training programmes at TEVETA Mr Cripson Daudi said the importance of intensifying TEVET programmes can never be emphasized.
"Technical skills training is the only way to go. Actually there are very few millionaires from white colour jobs. Most millionaires are those from blue collar jobs that as TEVETA and other stakeholders we are promoting," he said.
Mr. Gift Malenga, a teacher at Dowa secondary school said concurred with the research findings that the problem of negative perceptions is not only among students but even among teachers and parents.
"Most of us discourage students to pursue a career in TEVET programmes because of such negative perceptions. However my exposure through the master trainers workshop I attended has helped me to change my altitude. I now encourage students to choose technical courses as their first choice," said Mr. Malenga.
Mr. Malenga's sentiments were also echoed by Debora Kawonga a student at Dowa secondary school. She said most of her peers have negative attitude towards TEVET courses as they are viewed as inferior compared to white collar trades.
"Most of us think these courses are for those who have scored poor grades at the MSCE. Worse still for us girls, we think these courses are for our male counterparts because they demand a lot of labour. But with the skills shown here I have learnt that anyone can take them regardless of gender. We have seen a lot products made by fellow women," she said.
The skills show was held under the theme "TEVET a gateway to youth employment.