NEWS:
3 Dec, 2018
Share this Article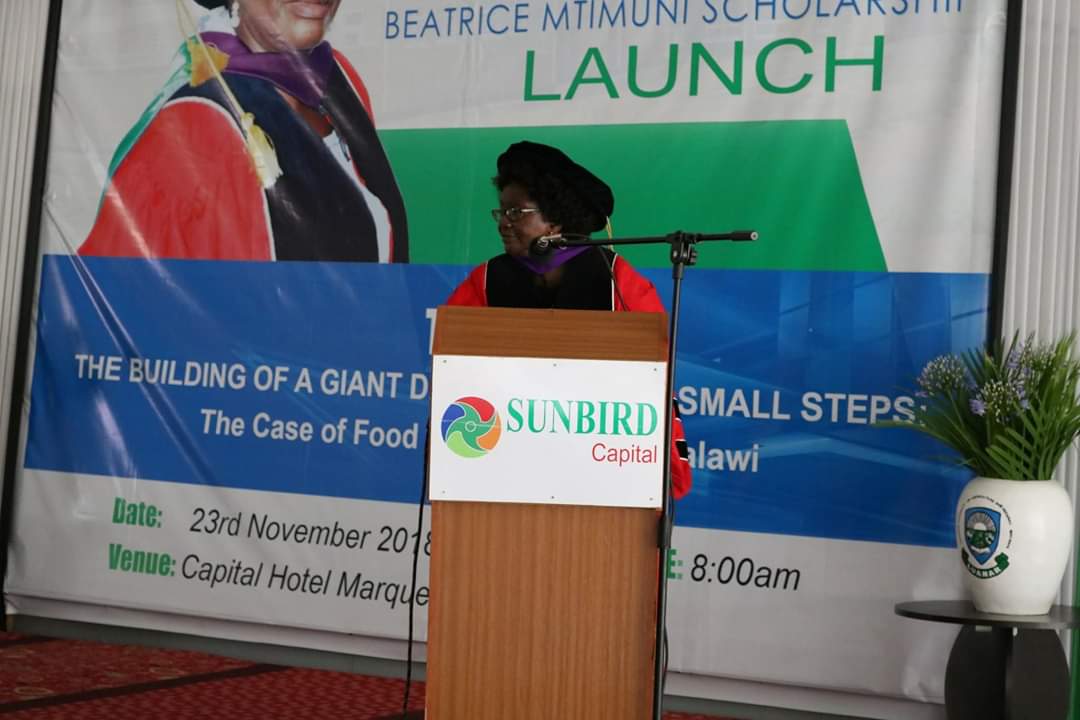 Dr. Beatrice Mtimuni giving a public lecture during the scholarship launch
The Faculty of Food and Human Sciences at LUANAR on Friday, 23rd November 2018 launched The Beatrice Mtimuni Scholarship (BMS), a fund that will be supporting students pursuing bachelor's degree programmes in the faculty. The scholarship is in honor of Dr. Beatrice Mtimuni who will be retiring from the university service soon.
The function, which took place at Capital Hotel in Lilongwe, was marked by a Public Lecture by Dr. Beatrice Mtimuni under the topic "The Building of a Giant Discipline from Small Steps: The Case of Food and Nutrition in Malawi," and a fundraising luncheon.
Speaking at the launch, Former Vice President of Malawi, Hon. Justice Malewezi, who was also the guest of honor, said the scholarship is very important as it will help to achieve the zero hunger and malnutrition in Malawi.
"The scholarship is intended to help young people to study this sector of food and nutrition. LUANAR is the home of academic work and teaching in this area. There are many students who are capable, excellent and have passion for this area but they are needy so I see that we will not lose the contribution of such students through this scholarship."
Vice Chancellor of LUANAR, Professor George Kanyama Phiri, said this is a very significant moment for the University because they have honored a lady who has dedicated all her life to the education of Malawians particularly in the area of nutrition and food science. He said this will give an opportunity for needy students to access scholarship that will allow them to be trained without challenges.
In her words, Dr. Beatrice Mtimuni said the problem of malnutrition in Malawi is still high and there is need to reduce the prevalence of malnutrition in the country. She said there are a number of students who are passionate in nutrition and have the potential to reduce the problem but they lack funds to complete their studies.
"We want to recognize those students who are brilliant, who genuinely want to contribute to this country to be able to complete their programmes because the problem of malnutrition is still relatively high in Malawi. The country has managed to reduce the prevalence chronic malnutrition which is being too short from the normal height but that is not enough. We need to steadily reduce malnutrition to levels below 20%." She said .
Dr. Mtimuni joined Bunda College of Agriculture, a constituent college of the University of Malawi, in 1971 and has passionately championed human nutrition both within the university and at national level. Outside of the university, Dr. Mtimuni has been a champion for nutrition as well as an expert resource person for food and nutrition policy in the country. She is renowned as a mother of nutrition in Malawi.
To preserve such an indelible legacy of pioneering and championing food and nutrition training in Malawi, unwavering leadership, selfless service and patriotism, it is befitting that deserving young and upcoming students at LUANAR be supported to follow and grow in the footsteps of this iconic scholar and matriarch of food and nutrition in Malawi.
Beatrice Mtimuni Scholars will be full-time Malawian students enrolled at LUANAR and pursuing a generic full time Bachelor's degree in the Faculty of Food and Human Sciences. Awardees shall be individuals who embody the values and principles that reflect the person of Dr. Beatrice Mtimuni.