NEWS:
3 Dec, 2018
Share this Article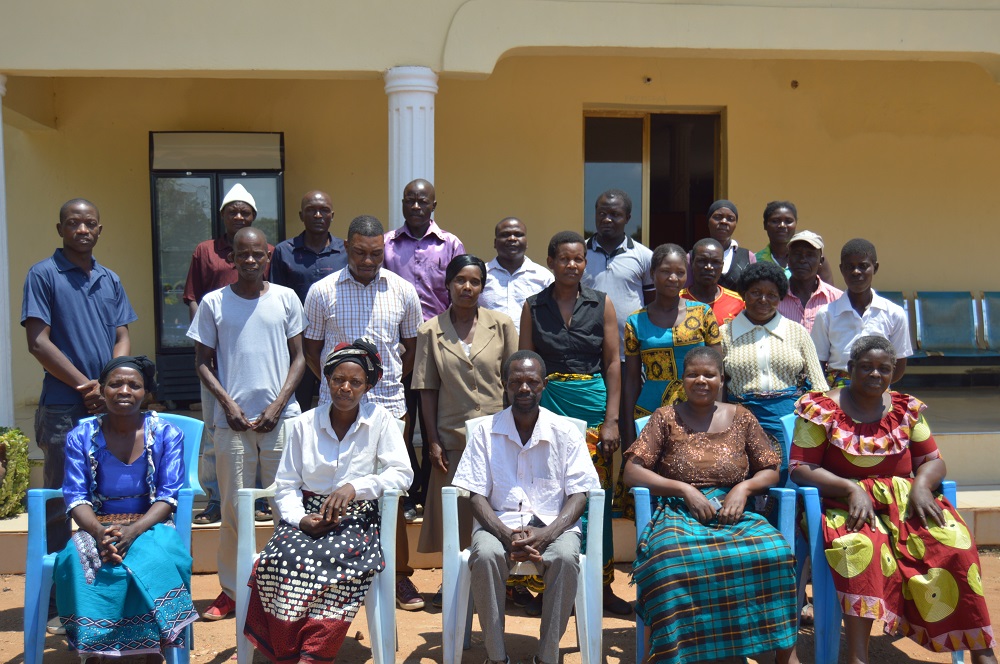 Farmers in balaka pose for a group photo soon after the official opening
Capacity Building for Managing Climate Change in Malawi (CABMACC) programme has been training farmers and extension workers in its impact areas on the technologies and innovations being developed by different projects which it supported.
The trainings which started on 12th to 25th November 2018 saw over 240 farmers from Phalombe, Balaka, Dedza, Nkhotakota, Rumphi and Mzimba being trained on these climate related technologies.
One of the farmers from Mpherembe in Mzimba, Mr. Alfred Jere, thanked CABMACC for the training, saying it has been an eye opener to them.
"This training is very important as it has touched on the important topics in relation to climate change. As farmers, there are some technologies which we did not know but through the training, we have learnt what our fellow farmers in other areas are doing. We will be able to use these technologies at home," said Mr. Jere.
He said he will share information with fellow farmers so that they are aware of these technologies as well.
"Once I am back home, I will gather the farmers I work with, train them exactly what I have been taught here. We are also going to have demonstration fields where we can demonstrate some of these technologies such as use of conservation agriculture and indigenous vegetable farming," he said.
Mr. Jackson Juwawo, an Agriculture Extension Development Coordinator (AEDC) in Ulongwe Extension Planning Area (EPA), hailed CABMACC for the initiative, saying the project has improved the lives of farmers in his area.
"CABMACC has made an impact since it came in the 2015/2016 growing season as it trained our farmers in soil conservation through ISFM project," he said.
He said through the project, farmers are now able to preserve moisture because of conservation agriculture which has been promoted by CABMACC, and this has increased productivity per unit area.
"We started with 300 farmers but now I can confidently say that more than 3000 farmers are now able to intercrop their maize fields with legumes so that they bring back the lost soil fertility," he said.
Mr. Juwawo said the dissemination of the climate change related technologies by projects in other impact areas had equipped them with the necessary knowledge to share with farmers.
"We have learnt new technologies such as how to control ticks using locally available resources, how to make biogas, the benefits of indigenous vegetables and many more. We are going to share these with our farmers and we believe that they will adopt them as they are technologies that can be developed using local resources," said Mr Juwawo.
Miss Shalon Shaba Assistant Veterinary Officer (AVO) from Bolero EPA said the training will not only help them as extension workers but will also help farmers in her area.
She said technologies like biogas production will not only save farmers time to fetch firewood but will also reduce the rate of deforestation in her area which currently is on the higher side.
She said she will encourage livestock farmers to adopt the technology as well as other technologies being disseminated.
"After the training, we are going to approach our farmers, and it will be easier as we have been trained together with lead farmers. This was a good approach as both of us will have same knowledge on these technologies,"
Mr. Alfred Simonde, Assistant Veterinary Officer at Linthipe EPA in Dedza stated that since CABMACC started working in his area, dairy farmers livelihoods have not been the same as the milk production greatly improved.
"Through the RedCap project under CABMACC, we have learnt a lot in terms of livestock management. Farmers were trained on formulation of feeds, record keeping, dairy animal management and many more. This in turn increased milk productivity for our farmers," he said.
He commended CABMACC for bringing technologies from other areas for the farmers to learn what their fellow farmers are doing to improve their livelihoods.
"I believe that our farmers will not be the same after this training. We are geared to share with them these technologies that we have been trained. The good thing is that the technologies are easy for the farmers to adopt as most of them use locally available resources," said Mr. Simonde.
According to CABMACC Monitoring and Evaluation Specialist, Dr. Horace Phiri, the project had a Competitive Grant Scheme (CGS) whereby research projects were funded to develop technologies that can help farmers adapt or mitigate climate change.
"These projects were implemented for three years and we thought it wise that we get experiences that we got from other project cites to share with the impact areas under the programme. We invited researchers to share the technologies that performed well in other districts so that farmers and extension workers know about them and promote them in their areas," he said.
Dr. Phiri said the results have been quite encouraging, saying in 2017/18 the innovations have contributed to improvements in crop and livestock productivity and ultimately income and food security of the targeted households. Other benefits have been the ability of farmers to adapt clean technology like biogas technology among other things.
"Another interesting thing is promotion of indigenous ways of managing things like tick control and the re-introduction of indigenous vegetable farming under this programme," he said.
He further said the trainings were conducted to reach out as many farmers as possible, saying it was for this reason that they targeted extension workers and lead farmers as these have the ability to reach out to a larger audience.
The trainings were organized to increase awareness of CABMACC technologies and it was expected that the participants will use the imparted knowledge to promote adoption amongst smallholder farmers in Malawi.