NEWS:
12 Nov, 2018
Share this Article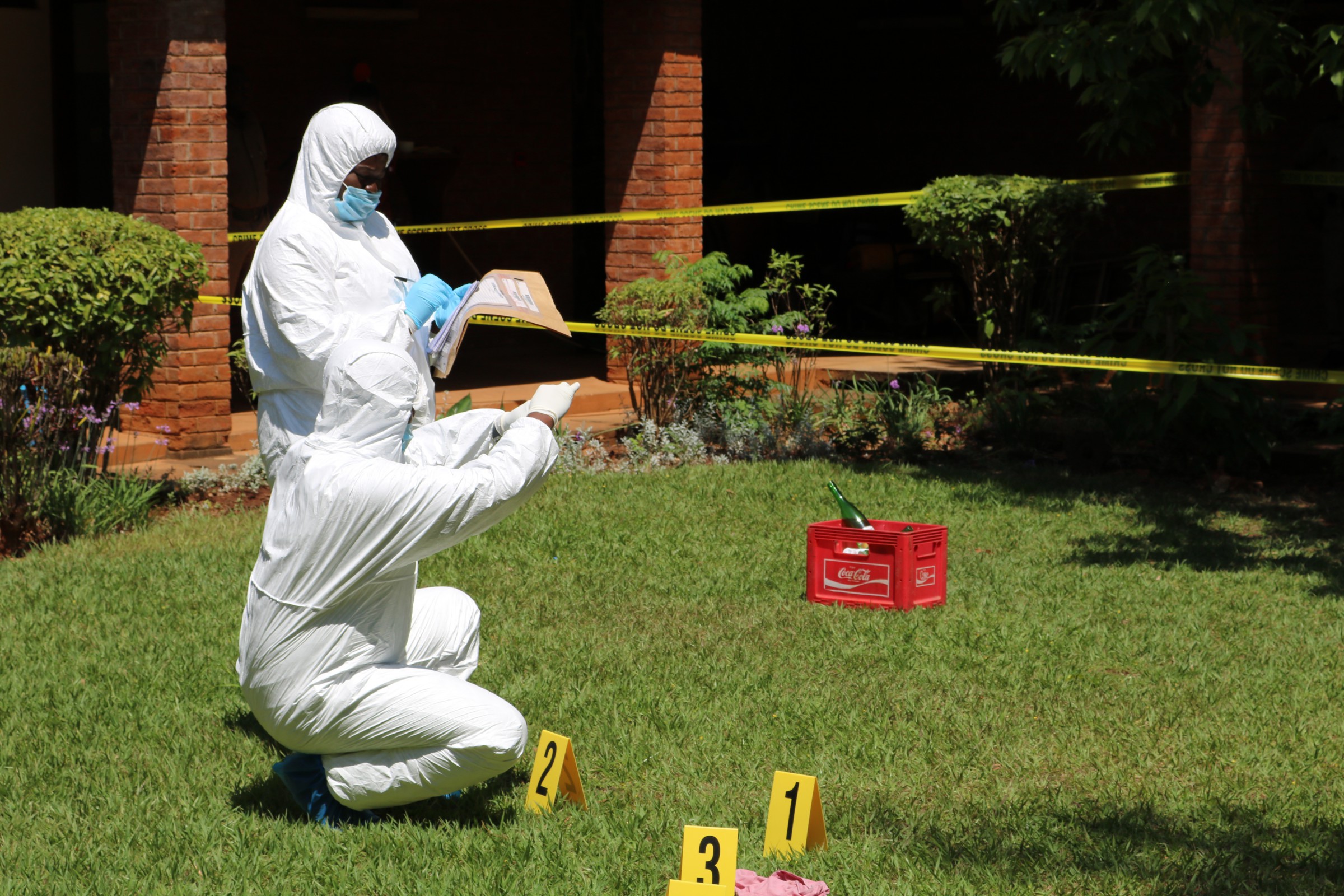 Police officers demonstrating what they have underwent during the training
As criminals are getting sophisticated in their activities, there is also a need for police officers and detectives to be advanced in their investigations. As such, The Lilongwe University of Agriculture and Natural Resources in Partnership with the European Union (EU), through the 'Chilungamo' (Justice) Programme, trained officers of the Malawi Police Service (MPS) in DNA forensics for crime investigations.
The training was facilitated by LUANAR's Department of Horticulture, specifically from the Biotechnology programme and Dr Ashley Barrow from EU, with Dr Kingdom Kwapata as the lead facilitator. For weeks, MPS officers were trained in DNA sample collection on crime scene. The samples which were collected in this exercise will be sent to LUANAR's Biotechnology lab for analysis.
Speaking during the closing ceremony of the training on Saturday, 10th November 2018 at Bunda campus, The Deputy Vice Chancellor of LUANAR, Professor Lewis Dzimbiri, said LUANAR is excited to take part in criminal investigations to combat crime and promote justice.
"The union between LUANAR and MPS is a landmark history for the nation especially with respect to law enforcement and fighting of crimes. We are about to enter an era of criminal investigation where DNA will be used to solve very complex criminal cases that otherwise cannot be resolved using the conventional methods of investigation. As a university, we are therefore excited to be part and parcel of this new rip into the future of criminal investigations using DNA and associated biological materials to combat crime." He said.
The Deputy Vice Chancellor went further to say that even though other countries especially in America and Europe have advanced in this field, it is not too late for Malawi to join the bandwagon. He therefore said that as criminals are getting sophisticated, science oriented institutions such as LUANAR should play a key role in providing solutions to such challenges by providing science based solutions.
The Chilungamo Pogramme is an EU funded programme that is supporting accountability and access to justice. Speaking in an interview, the Chilungamo Programme Team Leader, Sophie Racine, said the programme is supporting the criminal justice sector and the police have an important role in criminal justice hence the training.
"We want to equip the police with the proper training, knowledge, equipment and facilities in ensuring that they are capable to distinguish between the culprit and the victim. We thought that it was important to give them the tools that are available and we are very excited that with this DNA training, they will be able to use the most modern tools to identify if someone has really committed a crime or not," said Racine.
The officers demonstrated what they have learnt and were each given a certificate as well as a DNA forensics kit. Deputy Inspector General of Police, Mr. Duncan Mwapasa, said the training has come at a right time as MPS was lacking sophisticated investigation measures to trace the actual criminals.
"This is a big step forward in the criminal justice system and in the administration of justice. For a long time, we have relied on conventional ways of collecting evidence but with the coming of collection, preservation and analysis of DNA, we will be able to solve certain complex cases which we had been finding difficult to solve in the past as we will be able to connect the actual suspects or perpetrators of violence through the evidence that will be collected." He said.
Since its establishment, LUANAR has been known as an agriculture institution and one may tend to wonder how it is possible that the university is handling DNA issues. Over the years, LUANAR has been advancing in science and technology which has led to the introduction of a Bachelor's Degree programme in Biotechnology.
The university has the best biotechnology lab with state of the art facilities for DNA analysis that can be used in forensics as well as paternity testing, hence capable in DNA forensics.