NEWS:
16 Feb, 2018
Share this Article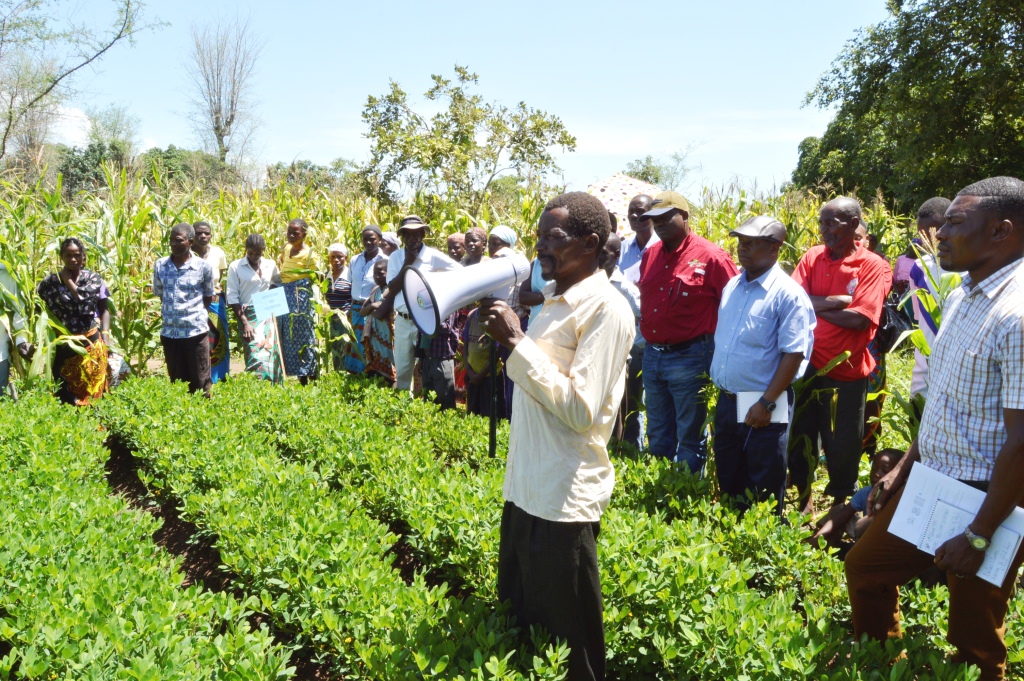 One of the Lead farmers explainig more abot the technologies being applied in a groundnuts field
LUANAR on Tuesday 13th February 2018 organised a field day at the Ulongwe Extension Planning Area in Balaka district to create awareness and stimulate action on promotion of in-situ rainwater harvesting technologies as a means of adaptation to erratic rains and frequent dry spells being experienced in the district.
Balaka is one of the districts that have been greatly affected by frequent dry spells in Malawi and Ulongwe is the hardest hit area in the district. For years, the area has been experiencing erratic rainfall, high temperatures and strong winds. This has resulted into poor crop production, making the district vulnerable to food insecurity.
In its quest to reduce the impact of dry spells in the area, LUANARthrough its Capacity Building for Managing Climate Change in Malawi (CABMACC) programme, thus embarked on an Integrated Soil Fertility Management (ISFM) project at Ulongwe EPA. As part of the project, the university has implemented technologies that help to conserve water in the soil known as 'in-situ rainwater harvesting technologies.'
In-situ rainwater harvesting technologies are field practices that help to conserve water in areas where the water is going to be utilised by the crops. The technologies that are being focused at Ulongwe EPA are use of animal manure, mulching and box or tied ridges.
In an interview after the function, ISFM Project Supervisor, Professor Vernon Kabambe, said they have been teaching farmers in the area, good agricultural practices, in order to raise their yields but dry spells has been the only challenge hence they decided to come up with technologies that can conserve water in the soil.
"We have been working in this area for three years now, and this year, our central focus is on in-situ rain water harvesting. This is because we have been implementing good agricultural practices and in many cases the crops have been dying due to early drought. So we decided to let every farmer become aware of various methods which can conserve water in the fields." He said.
Professor Kabambe went further to say that as researchers, they are planning to extend the project to other areas that have also been affected by drought.
Jafali Black, a lead farmer from Group Village Chipyali in Ulongwe-Balaka, expressed his satisfaction with the technologies, saying his crops are not drying up compared to what has been the case during the previous seasons.
"It's been three years now since I started following these methods of farming and I can spot the difference from the local methods we used previously. Our crops used to dry out when we had little rainfall but with the in-situ rainwater harvesting technologies, the crops are not drying up as there is still moisture in the soil even though we are experiencing low rainfall," said Black.
Another lead farmer, Anne Tiyesi, concurred with Mr. Black saying the technologies are really good as their fields are green and look promising. She thanked LUANAR for coming up with this project in the area.
The guest of honour at the event, Chief Director in the Ministry of Natural Resources, Energy and Mining, Bright Kumwembe, said the project has come at a right time in Ulongwe because of the challenges Malawi is going through in terms of Climate change. Kumwembe was happy that LUANAR scientists saw the problem in Ulongwe and moved into action.
Stakeholders at the event were members of the District Agriculture Extension Coordination Committee in Balaka and farmers from around also in attended. During the event, participants were taken to two fields where the in-situ rainwater harvesting technologies are being applied and see how they are being done and their impact on the crops.
The specific objectives of the event were to raise or increase awareness of extent dry spells in Balaka, raise awareness of available in-situ rainwater harvesting technologies and to offer an opportunity to view performance of some of the best fit in-situ rainwater harvesting technologies.
The event provided a platform for interaction between farmers and stakeholders that plan agricultural interventions.