NEWS:
18 Jan, 2018
Share this Article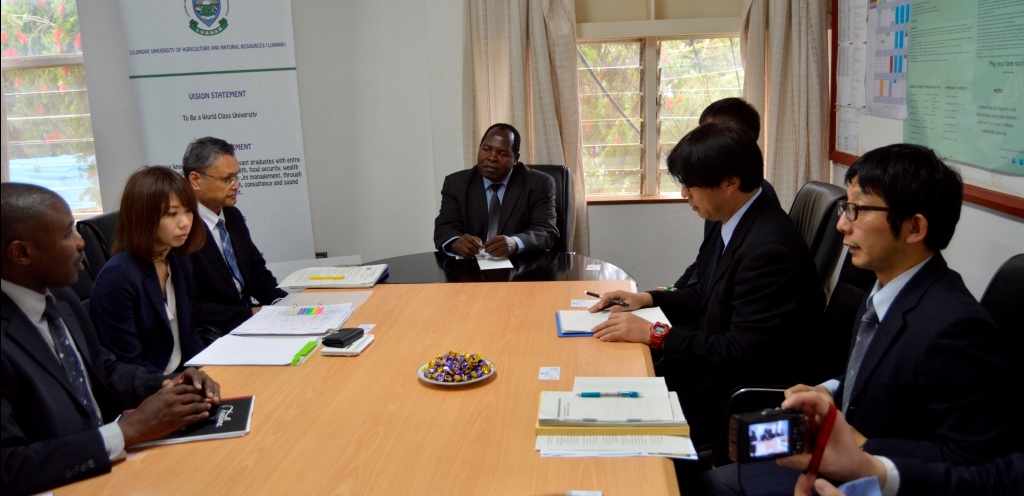 The visitors interacting with LUANAR Deputy Vice Chancellor Prof. L. Dzimbiri
LUANAR's Agricultural Engineering (AGE) Department and Government of Malawi through its Department of Irrigation in collaboration with Miyagi Prefectural Government and Miyagi University in Japan, are implementing a project called "Irrigation Engineer Capacity Building Project for Sustainably Utilizing Agriculture Water Management Technologies in The Republic of MALAWI," in a JICA partnership program.
On Tuesday 16th January 2018, the Department welcomed visitors from the Department of Irrigation, Miyagi Prefectural Government and University who came to monitor and discuss progress of the project as its new phase started the just ended year. The visit was also about discussing the content of training that the Malawi partners receive every year when they travel to Japan as part of an arrangement within the project.
In an interview, Head of Agricultural Engineering Department, Dr. Grivin Chipula, said the partnership between the two universities will benefit LUANAR a lot.
"So far, two members of staff and a Master of Science student have travelled to Japan since 2015 for training organized by the Miyagi Prefectural Government and Miyagi University. The training equipped the members of staff with new skills and knowledge especially on new innovative engineering procedures e.g. using drones to conduct topographic surveys and new engineering softwares," said Dr. Chipula.
During the visit, the team had an interface with the Deputy Vice Chancellor of LUANAR, Professor Lewis Dzimbiri. The Deputy Vice Chancellor said he was delighted with the partnership between LUANAR and Miyagi University, and hailed the Faculty of Agriculture at the institution for creating this beneficial relationship.
The Department, since 2015, has received various pieces of equipment that has helped in enhancing teaching and learning of engineering students. This year, visitors donated assorted items to the Agricultural Engineering Department and among them are eight levelling stuff, ten Synthetic tapes of 50 meters long, two digital moisture sensors/meters , a GPS receiver, an Aluminum level and an Automatic dumpy level.
LUANAR and the Miyagi Prefectural Government have been in this relation since 2015, and each year, LUANAR sends a member of staff or an MSc student to Japan for the training. This person goes together with three more people from the Malawi Government's Department of Irrigation for the training. Similarly, a team from Miyagi Prefectural Government also comes to Malawi for monitoring visits each year.