NEWS:
22 Nov, 2017
Share this Article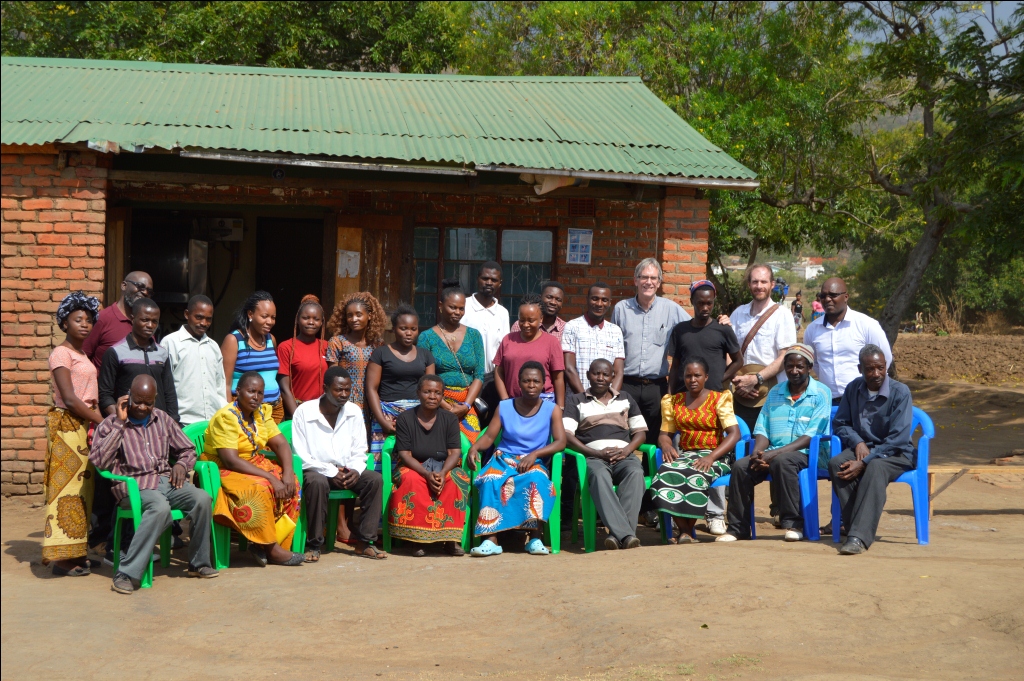 Excited: Farmers of Dzaonewekha Milk Bulking Group pose for a group photo with LUANAR staff and students after sharing success stories
Dairy farmers of Dzaonewekha Milk Bulking group in Dedza district are benefiting a lot from the livestock feeding and breeding technologies training they received from CABMACC. The farmer's expressed their excitement when LUANAR Agriculture Development Communication students who visited them to capture their stories earlier this month.
Capacity Building for Managing Climate Change in Malawi (CABMACC) designed a project to evaluate feeding and breeding technologies to enhance milk production and reduce carbon emissions known as REDCAP.
The project, which focused on smallholder dairy farmers in the drought prone district of Dedza, aimed at finding environmental friendly farming methods that would also boost production of milk.
CABMACC through the project trained farmers on how they can make alternative and relatively cheaper dairy marsh and also equipped them with appropriate animal husbandry and management skills.
Through these trainings, the farmers are very excited as they are producing more milk which they sell and improve their living standards and also consume for their bodies to be healthy.
"Dairy marsh is expensive. I feed my cattle maize bran and legumes; and they produce more milk that I sell and make money to support my family," said Eslina Chilamba, a dairy farmer under Dzaonewekha Milk Bulking Group.
With the income she gets from milk sales Chilamba built a house, is able to send her children to school and she affords the basic needs for her house hold.
Apart from the income that her family gets after selling the milk, Chilamba said they also get dung from their cattle that they apply to their crops as manure and the crops grow well.
Chilamba doesn't take her cattle for grazing. Together with her brother in law, Spencer Chiumia, they gather maize stalks, maize bran and legumes to feed their animals. They do believe that feeding cattle legumes and maize bran in addition to dairy mash is a better way to go than depending on grass and trees.
"Currently many trees are being cut down. This is bringing negative impact on the climate. If we feed our cattle legumes and maize bran in the kraals, more vegetation will be conserved. This will ensure good rainfall and in addition to that, shall improve the soil fertility," said Chiumia.
The story of Eslina Chilamba is an example of how successful farmers of Dzaonewekha Milk Bulking Group have become. A good number of them have built cement houses roofed with iron sheets while others have bought motor bikes and television sets.
The farmers are very thankful for the CABMACC's REDCAP project. With the skills they have acquired from CABMACC, they are now able to make feeds that boost milk production while conserving the environment as greenhouse effect will be reduced.
Written by Isaac Songola