NEWS:
17 Nov, 2017
Share this Article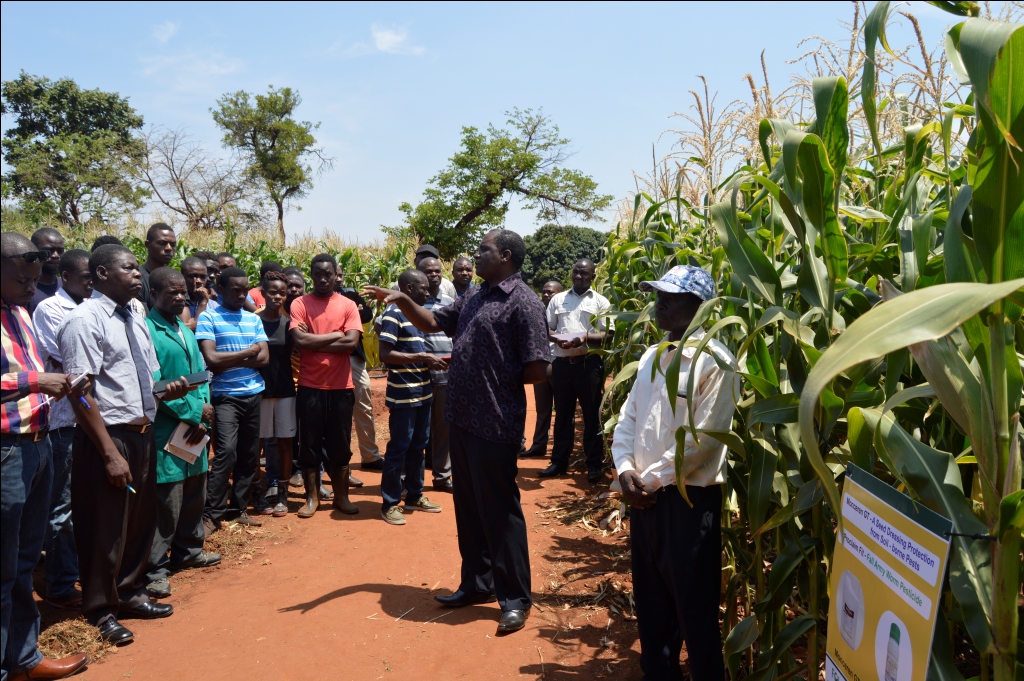 Patrons touring a maize demonstration field during the event
Farmers Organisation Limited (FOL), in collaboration with LUANAR, organized a field day at the LUANAR NRC Campus to exhibit a high yielding, pest and disease resistant variety of maize on Thursday, 16th of November 2017.
The mini-field day which was held under the theme 'more yield from less land' saw LUANAR Staff, FOL Executives, NRC students, farmers and other agro-dealers coming together to witness how FOL and NRC have contained fall-army worm, a pest that has attacked cereal crops in most parts of Africa.
Speaking on behalf of NRC Campus Director after touring a maize field at Horticulture Demonstration Farm, Head of Department of Natural Resources Management at NRC, Davis Sibale said as a training institution, it is a must to do research work and they need to collaborate with other stakeholders like the FOL to come up with something that is effective.
"I would like to urge Farmers Organisation Limited to still link with us and maintain this partnership so that all the findings we have had from this project, we should disseminate them to the farmers who are most of the times actively involved in crop production." He said.
Sibale also said the field day was to the advantage of the students since they will learn how to take care of the crop throughout the growing season.
"When the students will go out to work with farmers, they will have knowledge not only on theoretical point of view but also on practical work since they have been exposed to practical work. This is actually what we promote," said Sibale.
Sibale therefore appreciated the partnership that is in existence between LUANAR and FOL.
In his remarks, FOL's Seed Sales and Marketing Manager, Mr. Hannock Madeira, said they believe in good stakeholder management that includes corporate social responsibilities while serving the agriculture industry in Malawi.
Deputy Director of Crop Development at Lilongwe ADD, Mr. Bartholomew Ngauma, who was the guest of honour at the event, urged LUANAR students to embrace the spirit of hard work in the agriculture sector. Mr. Ngauma challenged the students that Malawi cannot be starving with hunger when there are experts in the agriculture industry.
During the event, NRC staff displayed how they have nurtured MRI514, a maize variety that matures early and is also resistant to drought and diseases. Together with FOL, they also explained how they have contained fall army worm, a pest that is attacking most cereal crops in Malawi.
Among the exhibitions at the event were Proclaim fit, a pesticide used to deal with fall army worm and Monceren GT, a seed dressing chemical that protects crops from soil borne pests.
Written by Isaac Songola