NEWS:
20 Feb, 2020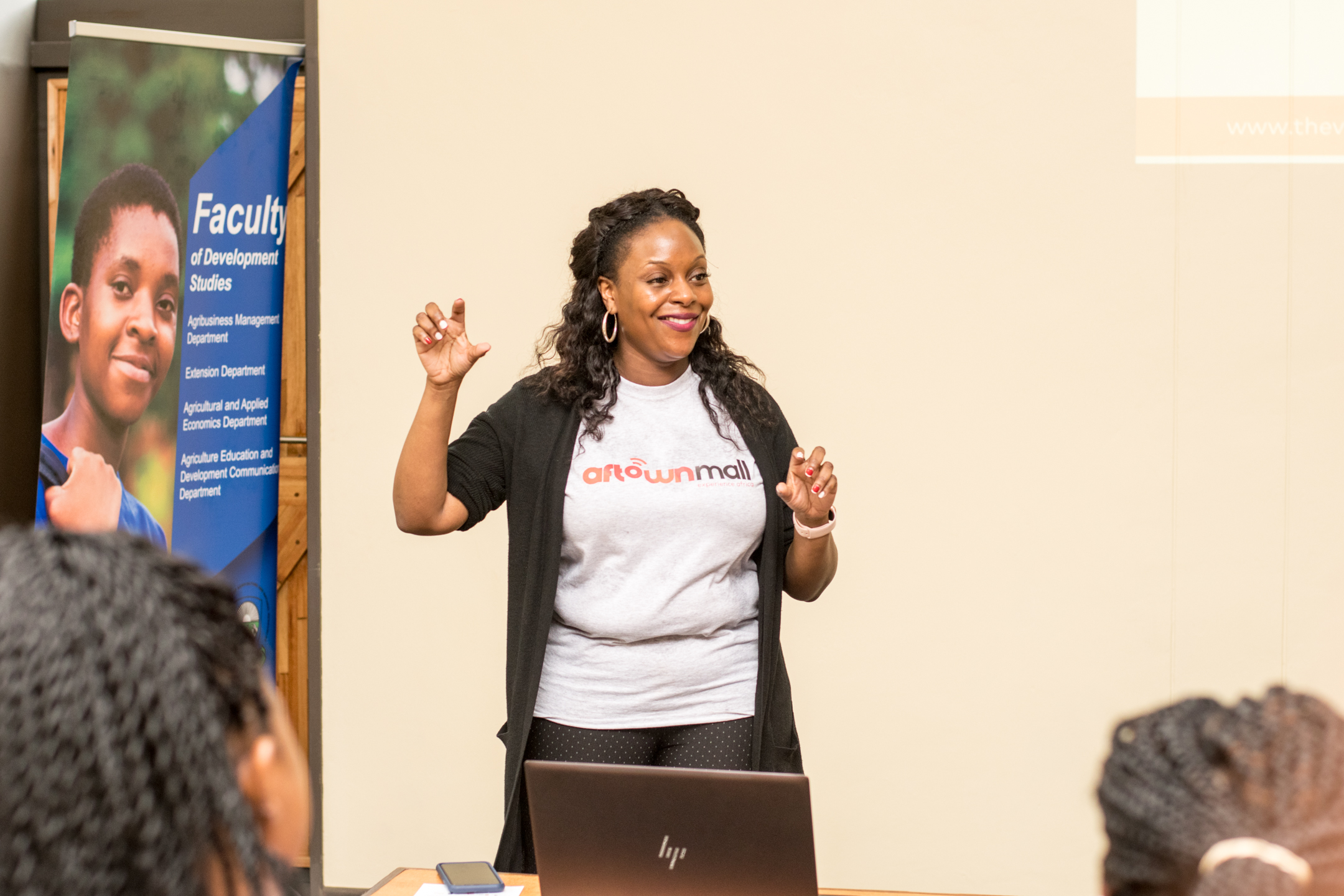 Cook delivering a lecture during the workshop
The Agribiz Hub at LUANAR, in collaboration with the Virtual Global Consultant (VGC) group, conducted an E-Commerce Workshop at Bunda College. The two-day workshop which ran from 18th to 19th February 2020, aimed at imparting knowledge to young entrepreneurs on how they can market their products and services using online platforms.
In an interview with the media, one of the workshop organizers, Dr Daud Kachamba, said Malawi needs to go an extra mile in order to put its products and services on the international market and there is a need to get skills and knowledge to get there hence the workshop.
In his remarks on behalf of the college's Principal at the official opening of the workshop, Dean of the Faculty of Natural Resources, Dr Daniel Sikawa, told the participants that the workshop was of paramount importance as we are in an electronic era and more youths are now getting into agribusiness.
"This training is very relevant for the youth as you will be able to market your products online which is quite relevant regarding the generation that we are in. You can now have websites and market your products online." He said.
And Speaking in an interview, the Dean said LUANAR wants to be part of the agenda of transforming the agricultural sector and thus want more youths to be involved in this agenda. However, to attract them, there is need to bring in some aspects that are relevant to their needs hence the training will go a long way in achieving that. He also added that apart from this, the university is incorporating the youth in agriculture through the Agribiz hub.
"The Agribiz hub is there to incubate ideas and innovations so we wish, in a long term, to link the innovations to the national youth program where there are funds that will be financing youths who have very good ideas to commercialize the agricultural sector," added Dr Sikawa.
Agribusiness in Malawi has been conducted by some quarters with a primitive way of selling products virtually from person to person. But according to the VGC Group founder Naomi Jordan Cook, who was also one of the facilitators, there is a possibility of breaking through the online market with agribusiness products and services.
"People can start selling dried products online, or they can even turn certain products into something valuable that they can export to other countries where people want those products and where they even never heard about those products through online marketing. For those that have knowledge in agriculture, they can sell videos online on how to do certain things so there is a great opportunity for anyone to get online." She said.
Cook added that if e-commerce is implemented successfully in Malawi, it will change the whole landscape of how the economy is like and will put the country on the map. People around the globe will start to see that there are a lot of opportunities in Malawi with agribusiness, with products and services that people did not know about.
During the workshop, the participants were trained on how to create websites that stand out and how to brand their business. At the end of the training, it was nothing but a word of appreciation from the participants, who said they have benefited a lot from the training.
"I have been working on developing my business website and this E-Commerce Workshop is going to help me generate more traffic on my site and also help me sale. My business involves recycling glass into other products. This kind of information is going to help me reach out to more people and they will get to know and understand my concept on waste management and conservation of the environment," said Madalitso Mwaungulu, one of the participants.
The training was under the E-Commerce Workshop Series 2020 which is being carried out by Aftown Mall and is about empowering people to start their businesses online, to start getting more active in this global community online, to learn how to develop, design and market their products.