NEWS:
23 Oct, 2019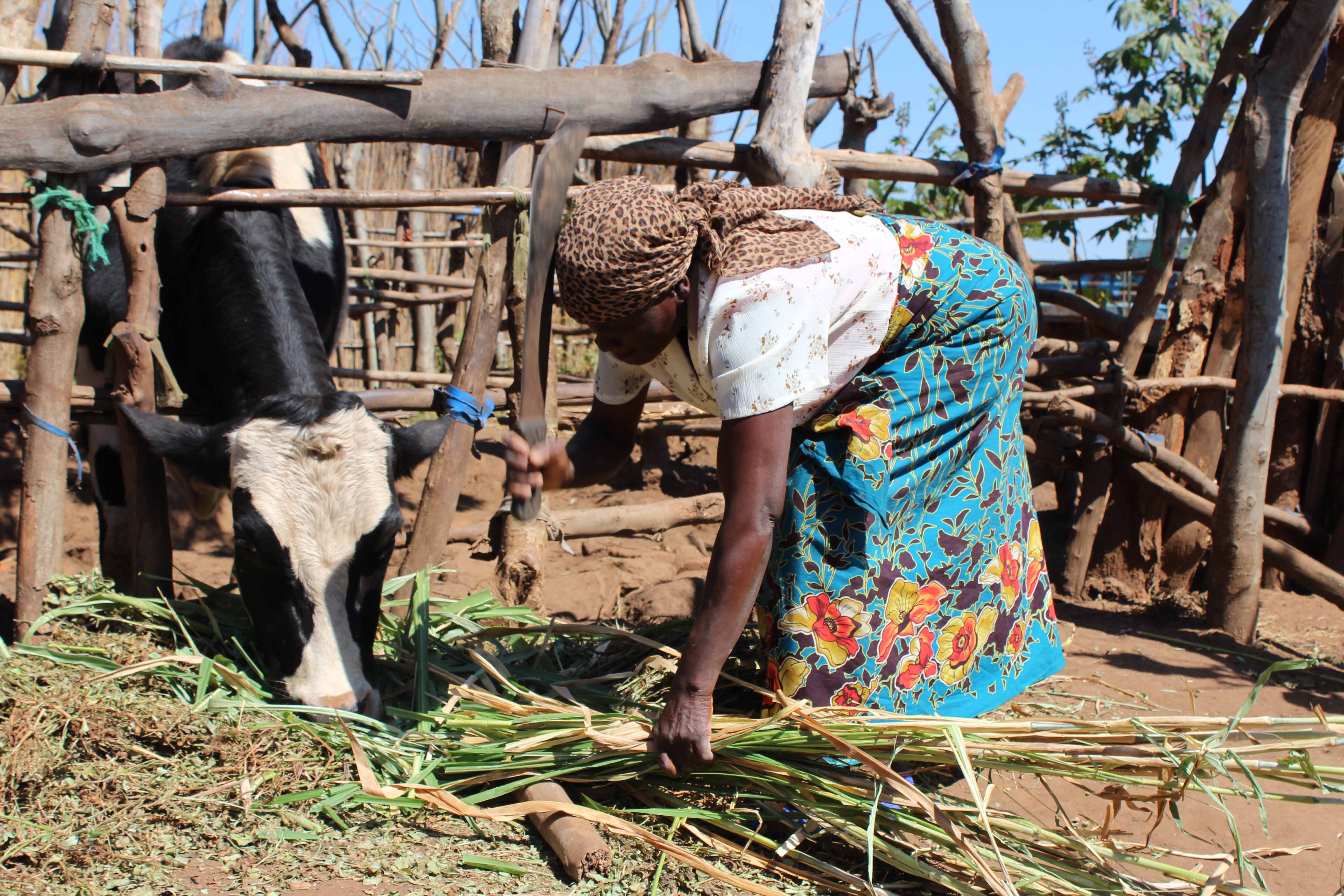 Chaoloka demonstrating how she feeds her dairy cow during a media tour organised by RedCap project with support form CABMACC
New evidence in Dedza District suggests that empowering rural farmers with proper management of dairy cows could double milk output and reduce gas emissions that fuel global warming.
Since June 2013, researchers at Lilongwe University of Agriculture Natural Resources (LUANAR) have been working closely with dairy farmers in Linthipe and Mayani Extension Planning Areas.
They trained community members to prepare feed, practice artificial insemination, manure-making, disease and parasite control and exercise proper handling of exotic cows.
Funded by Norway, the Capacity Building for Managing Climate Change in Malawi (Cabmacc) seeks to improve livelihoods and food security through innovative responses that reduce environment-unfriendly emissions.
Analyses underway at LUANAR'S Bunda College shows that a one-time low-producing cow now produces more than the national average of 10 litres per day, says principal investigator Liveness Banda.
In an interview, she stated: "In Linthipe where the study started, milk production more than doubled.
"When we did a survey before the start of the project, the average milk production per cow per day was 4.5 litres which were extremely below the national average. But now, we are getting up to 12 litres per cow per day. Of course, there are variations, with some farmers getting as high as 28 litres from a cow a day."
According to Banda, the low milk volumes recorded at the start were largely due to poor management of the exotic breeds, including Friesians, Holsteins and Jerseys.
"After training them in recommended animal care, some cows started producing eight litres a day and others 10. The skills to produce nutritious milk using locally available material have helped many farmers to beat the national average," she said.
Emissions of methane, nitrous oxide and other gasses that are hazardous to the environment have gone down by seven percent.
Some families under study are turning dung into manure, redirecting the gases once lost to the atmosphere to increase crop yields amid harsh impacts of climate change and loss of soil fertility.
For Yohane and Virginia Chaoloka, who now use homemade diary mash thrice cheaper than factory produce, this represents a big boost to their household income, nutrition and livelihood.
"The profitability of dairy farming is higher and the detrimental effects on the environment is reduced. We no longer have manure spilling all over the place; we use it in the fields" says Yohanne in an interview.
A massive heap of maize cobs from their two-hectare field shows the benefits of manure.
"We used to harvest 45 bags of maize after applying about 10 bags of fertiliser. Now, we harvest no less than 200 bags using manure which we make by mixing cow dung with one-and-a-half bags of fertiliser."
The couple cow used to produce eight litres of milk per day before the project. Now it produces 20 litres courtesy of the the feed prepared learnt from the project, according to the couple.
The couple is among 82 families affiliated to Dzaoneni Milk Bulking Group in Linthipe. They sell their milk to the cooperative at K155 per litre.
The weekly volumes of milk pouring into the communal bank, which supplies to Lilongwe Dairy Company, has risen from 3 000 to 30 000 litres since 1974, says dairy farmers clerk Kadauma Ntela.