NEWS:
21 Oct, 2019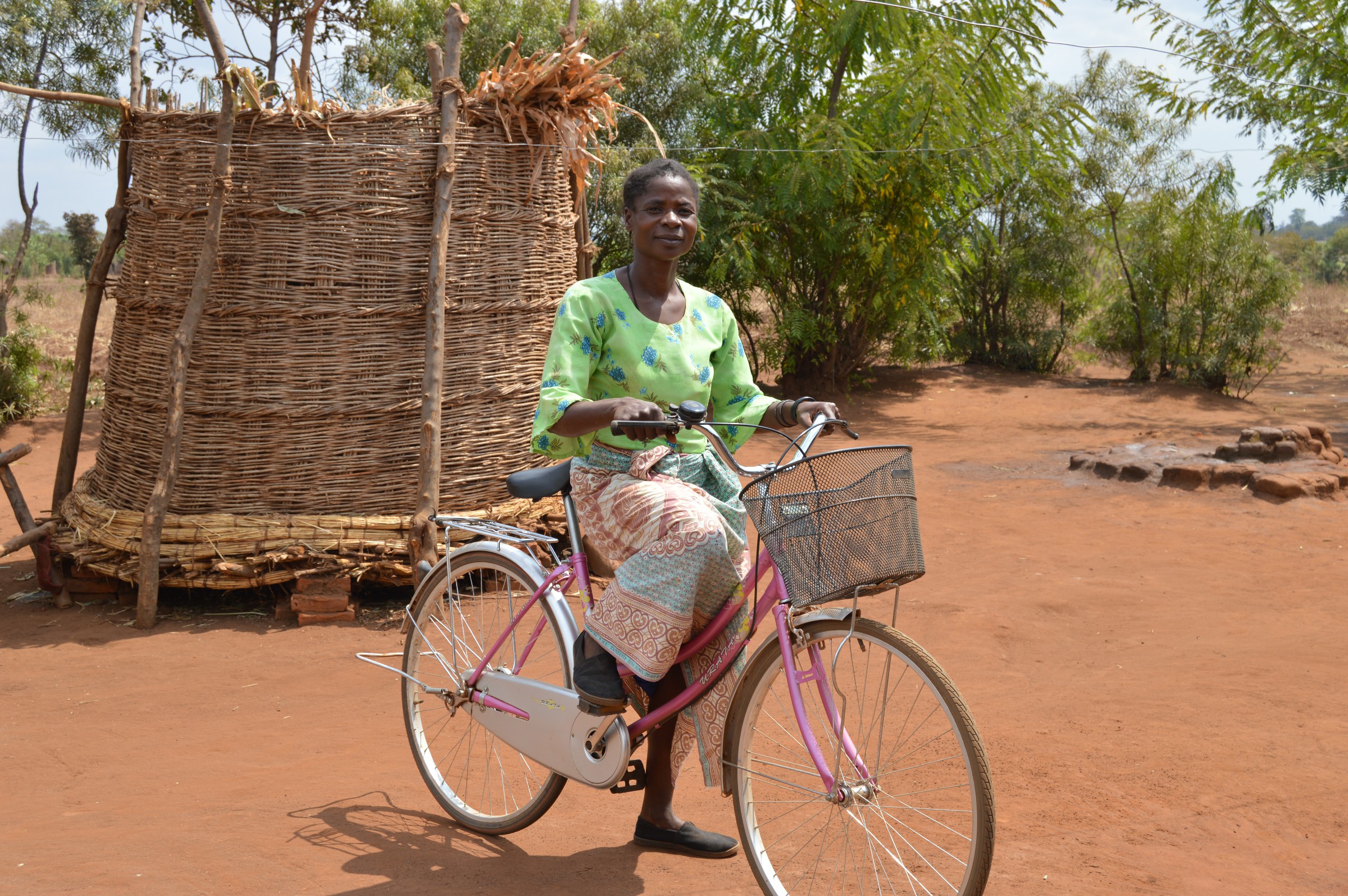 Mwanza showcasing a bicycle she bought from dairy farming proceeds
Forty four year old Grace Mwanza from Katayira Village T/A Chiseka in Lilongwe thought that the death of her husband was the end of everything. Thinking of her six children, who her husband left her with, left her in tears as she had no idea on how to take care of them. A widow neither working nor doing business, where do I start? She asked herself. Little did she know that there is gold in dairy farming; she never knew that dairy farming would change her life from a helpless woman to an independent woman.
"Life was not easy before I started dairy farming. I had to struggle to provide basic needs to my children and we could sleep on empty stomach sometimes," said Mwanza.
"There was a time when I heard that dairy farming is rewarding and I had an interest to venture into this kind of farming but I had no capital as well as skills in managing livestock," said the mother of six.
In Malawi, a dairy cow has become a golden animal that has catapulted smallholder dairy farmers out of poverty.
The growth of the smallholder dairy sector has resulted in high demand for dairy cows, which the country's breeding capacity is failing to meet. Despite this demand, the industry has not been fully realised.
For instance, the country's five main dairy processors fail to reach half of their production capacity due to inadequate milk supply which has resulted in close to 50% of the country's dairy products requirements being imported.
The country has an under-supplied local market and under-utilised milk collection, cooling and processing capacity. In addition, most farmers lack skills in dairy management which has also attributed to a reduction in productivity.
As Grace Mwanza already confessed, many smallholder farmers in the country lack knowledge in caring and managing dairy cattle hence fear to venture into this profitable farming.
"When I heard about dairy outreach program by Lilongwe University of Agriculture and Natural Resources (LUANAR) at Bunda College some years ago, I decided to join Mkwinda Dairy Farming Club which it initiated in collaboration with the Extension Planning Area and Lilongwe District Agriculture Development Office. It was under this project that I received a dairy cow in the pass-on program," she said.
This was a u-turn of Grace Mwanza's life. With her passion for dairy farming and the training by LUANAR and Government Extension Staff, she was able to look after her animals well.
"I thank LUANAR for the project; I have been empowered economically because of it. Nowadays, I am able to pay school fees for my two children, a thing I was not able to do in the past years. It is not only that, every person in my family has a good health now than before because of the milk I am getting from the cows," said Mwanza.
Like Mwanza, many farmers surrounding Bunda College have improved their livelihoods through this project.
Mavuto Chipsinja, from Kasumbu Village T/A Masula. says his family livelihood has improved as it is now food secure.
"The dairy cow provides us with manure which we use on our farm. As a result, we harvest a lot. I no longer use a lot of fertilisers on my farm. Some of the milk is used at home thereby making our food highly nutritious," said Chipsinja.
"I am capable of paying school fees for my children and able to support three orphans. Am really thankful for the project as it has improved my family wellbeing. I no longer live below the poverty line," lamented Chipsinja.
"In addition I use the dairy farming proceeds to care for the elderly in my community and I provide free milk to them every Sunday," he further said
The dairy farming program has not only improved the livelihoods of the dairy farmer as the benefits are also reaching out to other community participants who did not receive the dairy cows. The dairy outreach project is a source of knowledge and skills, good nutrition and employment to some community members as they are employed either full time, taking care of the animals, or part time, fetching water, cleaning the kraals, and transporting feeding materials such as maize bran and husks.
Despite its phase out, the project success stories are all over as many farmers have benefited from this programme.
The project titled "Support to the Agricultural Extension and Training Services Programme (SAETS)" was implemented by the Department of Animal Science at Bunda College of the LUANAR with support from Flanders International Cooperation Agency (FICA)
The main objective of SAETS was to increase the number and enhance capacity of extension workers and veterinarians to effectively disseminate technologies that will translate to changes of livelihoods of rural communities hence one of these was the dairy outreach program.
According to Professor Timothy Gondwe, the Dairy Outreach Program, which in addition to FICA had other funding from Scottish Government International Development Fund (SGIDF) through Scottish Rural Agricultural College (SRUC), and Volunteer personnel support from World University Services of Canada (WUSC), was implemented in the surrounding areas to transform the community from wage dependency to sustainable livelihood.
"The sources of income for these communities have been crop sales and casual labour, with proliferation of charcoal business. That is why the Department of Animal Science at LUANAR thought of introducing dairy farming which provides a decent source of income almost throughout the year," said Professor Gondwe.
Professor Gondwe said the program has helped farmers in terms of nutrition as well as economic independence.
"The great impact is that we are seeing notable milk yield within breakeven point per cow among the farmers and for sure there is substantial income from dairy among these particular farmers. We have evidence that we gave some of the initial 25 cows to elderly people as first beneficiaries who used to drink beer but now they are consuming milk and they have good health than before and that they have stopped drinking beer," said Professor Gondwe.
Dairy farming can provide an alternative source of income to the country if properly adopted. Despite the private sector, Government and the donor community supporting the industry, there is still a lot that needs to be done. If the LUANAR Dairy Outreach Program changed lives of several farmers in Mitundu why not in other areas of the country? The country might be sitting on gold, which might become a major industry in the economy, without realising that. It is high time dairy farming initiatives are intensively scaled up.