NEWS:
10 Oct, 2019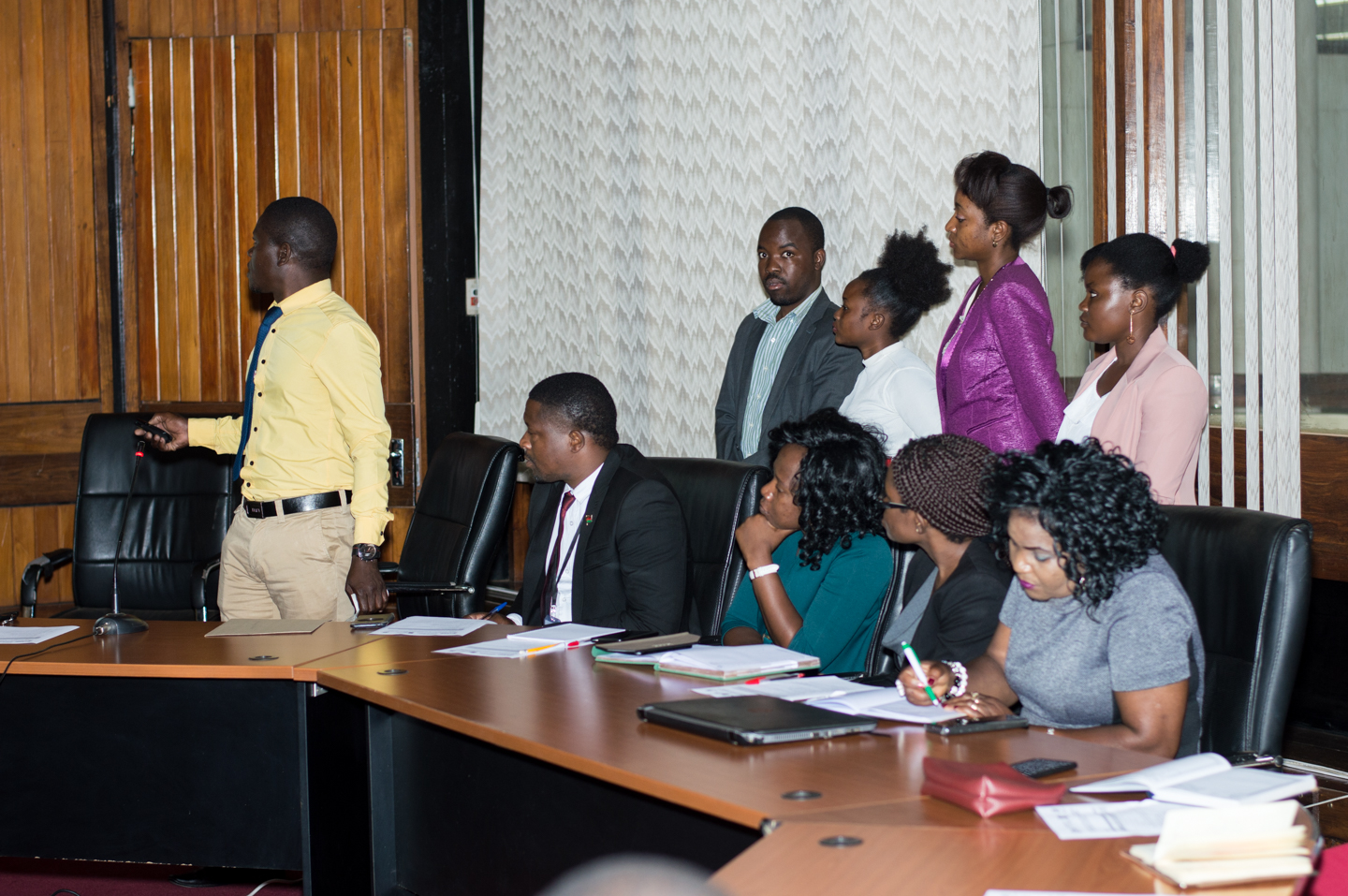 The students presenting findings of the project
Lilongwe University of Agriculture and Natural Resources (LUANAR), on Tuesday, 8th October 2019, presented findings of the research on current status of neglected and underutilized species (NUS)-a project which focused on species such as indigenous vegetables, insects and other foods that most people consider them too inferior in urban food markets. The event took place at Lilongwe Civic Offices and was graced by His worship, the Vice Mayor of the City of Lilongwe, Councillor Richard Banda.
The project, which is under the Frugal Innovations Practicum (FIP) 4, was conducted with the following specific objectives: to assess the status of production and/or management, marketing, and utilisation of NUS; to investigate challenges and opportunities for promoting NUS in existing food systems, and; to identify the strategies in promoting NUS. It focused on Mitundu Market, Lilongwe Main Market, Lizulu Market and Chigwirizano Market.
The results of the project showed that most people in urban areas prefer exotic species to indigenous species. This was evidenced as most traders who sale local foods do not make much sales compared to the ones selling exotic species.
Speaking at the presentation ceremony, Programmes Coordinator at LUANAR, Dr. Andy Safalaoh, said in Malawi, people are neglecting local foods which may result into these local but very nutritious and climate change resilient to extinct. He thus said there is a need to do research on these species to see how they can be multiplied, preserved and improved, otherwise they might be gone.
"If we don't do any activity on these local foods, we find that they might be gone and people will only be eating exotic foods. So, we believe that if we can include these local foods which are very nutritious, climate smart, and which farmers or local people can easily find, will be very important." He said.
Dr. Safalaoh added that LUANAR is already doing its part in promoting these indigenous vegetables as there is a project at the university which is multiplying seeds of amaranthus (bonongwe), which is more nutritious compared to cabbages which most Malawians are fond of eating.
In his remarks, Vice Mayor of Lilongwe City Council, His Worship Councilor Richard Banda, said this was an important research and as a council, they will work with government to have policies that promote the local species.
"The FIP4 is important as it assessed the neglected and underutilized plants and animal species. As you may well know, though neglected, these plants and animals such as mfutso (dried vegetables), amaranthus, insects such as grasshoppers and mice, are nutritious, healthier and climate smart. However, there are challenges as pointed out by the students here. Lilongwe City Council will work with the government to have deliberate policies that promote neglected plants and animals. The Ministry of Industry and Trade should promote these as part of Buy Malawi campaign in our restaurants." He said.
The vice mayor went further to say that more work regarding awareness and research to increase the production of the neglected species is required by all stakeholders. He then asked development partners to support these efforts as part of sustainable food system.
Councilor Richard Banda hailed the collaboration of LUANAR and Michigan State University (MSU) for the FIP 4 saying they have identified challenges that they have been struggling to deal with and some which they did fully acknowledge.
"This is an eye opener that collaboration of institutions, in addition to government, private and public institutions, can enhance and strengthen the development of our beloved nation, Malawi. The practicum has also shown that higher learning institutions through research, advocacy and outreach, are important tools for development of a nation" added Banda.
He concluded by thanking LUANAR students who participated in the project for their availability and willingness to put their classroom theory work into practice, as well as USAID for the provision of funds to carry out the project.
LUANAR in collaboration with the Global Centre for Food Systems Innovation (GCFSI) at Michigan State University (MSU) jointly have been conducting an innovative experiential learning practicum. The practicum focuses on building skills in collaborative community engagement in the context of urban, peri-urban and rural food exchange and provisioning in Lilongwe, Malawi.
Initially, students from MSU and LUANAR worked together to engage small to medium-scaled food entrepreneurs to identify, articulate, and propose appropriate (or frugal) solutions to common problems in markets, which, if properly addressed, would allow improved livelihoods and/or food security. This year, only students from Bunda College were involved in the practicum and for the first time, undergraduate students from NRC also participated.