NEWS:
15 Aug, 2019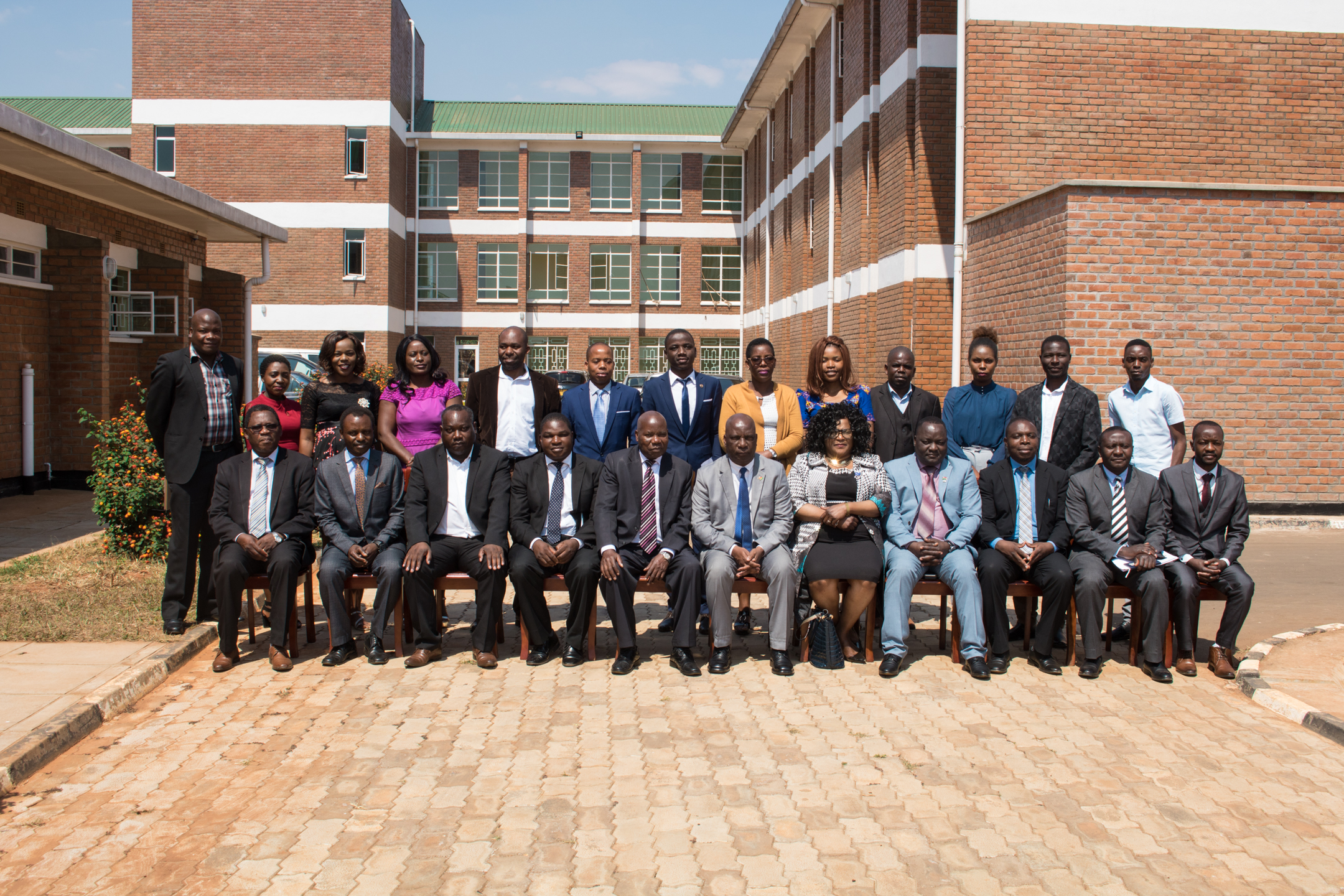 Minister of Education, Dr Susuwele-Banda poses with universities staff and the awardees for a group photograph
The Government of Malawi through the Ministry of Education Science and Technology (MoEST) and National Council of Higher Education (NCHE) awarded research grants to 20 postgraduate students who are pursuing Masters Degrees from different public universities in Malawi.
Speaking at the awarding ceremony which took place at LUANAR's Bunda College on Wednesday, 14th August 2019, Minister of Education Science and Technology, Hon. Dr. William Susuwele-Banda said Malawi needs educated people who will be making decisions based on evidence to develop the country hence the need to support post graduate students.
"We need to invest in young Malawians especially those in the areas of research because we know that research is the only field that we can generate relevant information for all the sectors in Malawi; be it education, health, agriculture, aviation, tourism etc. We need researchers that are able to collect information and tell us exactly what the issues on the ground." He said
Dr. Susuwele-Banda added that the fund has just started and that they are expecting to double the amount when they will be funding other students next year. "We will be growing the fund to make sure that more and more researchers should benefit from this fund,'' added the minister.
The Minister therefore encouraged young people to do proper research so that their findings should be used when making policies to develop the country.
In his remarks, Vice Chancellor of LUANAR, Professor George Kanyama-Phiri, who also represented all Vice Chancellors of Public Universities in the country, thanked the ministry for facilitating the initiative. He said LUANAR has a high population of postgraduate students of which a majority of them cannot the fees that keep on increasing every year and such awards were therefore timely.
"My humble appeal Honourable Minister is that this should be the beginning and there should be more opportunities for our postgraduate students to receive more. Knowledge in the University is gained through research and it gets integrated into the curriculum and therefore lecturers become wiser through research." He said.
And speaking in an interview, one of the awardees, Zelita Zamula from Mzuzu University hailed MoEST for the grant will go a long way in helping the students finish their studies as most of them are self-sponsored and they tussle with research funds.
"I would like to appreciate the Ministry of Education for this grant to do research. This will help us to do our research without many financial problems. Most of us fail to finish our studies in time because we struggle to source funds for research since most of us are self-sponsored." She said.
The students of which four are from LUANAR and the others from Mzuzu University, College of Medicine, Kamuzu College of Nursing, Polytechnic, Chancellor College and The Malawi University of Science and Technolody (MUST) have been given 500 thousand kwacha each.