NEWS:
8 May, 2019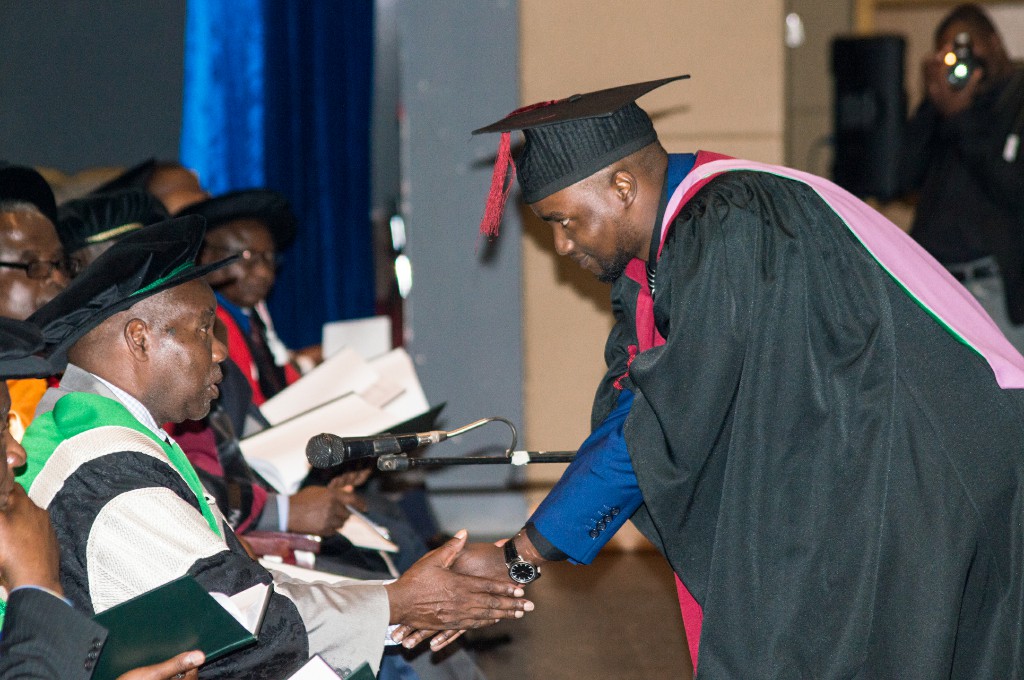 The Vice Chancellor, Professor Kanyama Phiri shakes hands with one of the graduating students, Yanjanani Kamba
The Africa Centre of Excellence in Aquaculture and Fisheries Science is congratulating three students for being the first students to graduate with masters degrees under AquaFish-ACE.
This follows the Lilongwe University of Agriculture and Natural Resources' (LUANAR) third congregation which took place on 7th May 2019. The AquaFish graduates, Francis Jiva, got an MSc in Agribusiness Management while Yanjanani Kamba and Griffin Miracle graduated with an MSc in Agricultural and Applied Economics.
Speaking in an interview, the Centre Director, Professor Emmanuel Kaunda congratulated the students saying the centre was pleased to see the first students who came under AquaFish-ACE graduating.
"We congratulate all the students who have graduated. They have worked hard to achieve this and we are proud of them. Now that they have graduated I urge them to use the knowledge and skills that they have gained to bring up solutions that can improve the aquaculture and fisheries sector and contribute to the nation's development," he said.
The Centre Director also called on other AquaFish-ACE students still studying to work extra hard so that they could also finish school in good time.
Speaking in an interview, Yanjanani Kamba also expressed his joy for graduating. "I am grateful to God for letting me graduate. Studying at LAUNAR has been an awesome journey. I appreciate the staff at LUANAR and AquaFish-ACE for their effort to make my dream of getting the master's degree a reality," he said.
A visibly excited Francis Jiva thanked AquaFish-ACE for funding his studies at LUANAR. "I am very happy that I have graduated. It was not an easy journey but I thank God for this. I also thank AquaFish-ACE for providing financial support and other learning resources."
And on his part, Griffin Miracle also thanked the centre for proving him with funding to study at LAUNAR.
"I am thankful for the financial support that AquaFish-ACE provided me with during my studies. Now that I have finished my master's degree I am looking forward to the next task of getting a PhD," said Miracle.
During their studies, the graduates worked on different research areas along the fish value chain. Yanjanani Kamba's research identified fishers' adaptation strategies, examined factors affecting fishers' adaptation changes to mitigate against effects of climate change and assessed factors that affect choice of specific adaptation strategies.
The research showed that policy makers ought to ensure that they combine the following interventions: migration of fishing efforts and livelihood diversification; and investing in improved fishing gear and livelihood diversification in order to improve prospects of fishing communities.
Griffin Miracle's research looked at drivers of fish farmers' choice of coping strategies to weather shocks. The results are of paramount importance to policy makers that enhance reduction of the negative impacts of climate change on fish production such as provision of affordable loans to fish farmers.
Francis Jiva's research focused on consumer analysis of MALDECO's caged Tilapia. The results showed that consumer-led production by the Aquaculture industry would influence growth of the industry.
Francis, Yanjanani and Griffin were among the first cohort who enrolled under AquaFish-ACE in November 2016.