NEWS:
28 Feb, 2019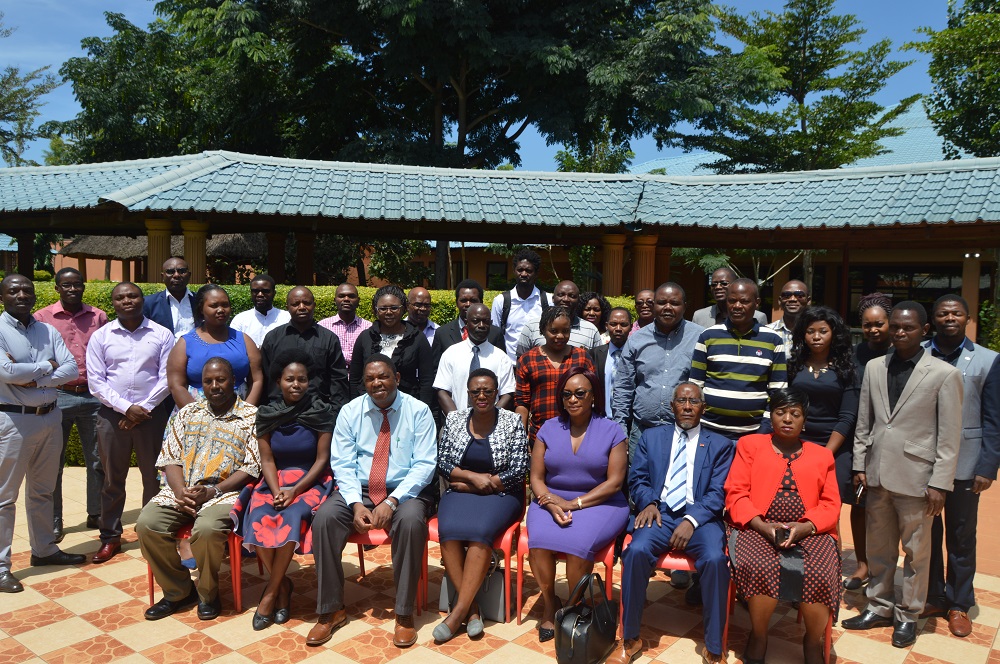 Participants pose for a group photo soon after the official opening of the workshop
The Lilongwe University of Agriculture and Natural resources (LUANAR), through the Norwegian Government-funded Capacity Building for Managing Climate Change (CABMACC) Programme, is leading the establishment of the green credit scheme in the country.
Green credit scheme is a scheme through which people are rewarded based on the level of reduction of their environmental footprint and the rewards will be in the form of "Green Credits.
Speaking on Tuesday during the Stakeholder consultation meeting at Linde Motel in Mponera, LUANAR Programmes Coordinator, Dr. Andy Safalaoh, said as an academic institution, LUANAR through the CABMACC Programme promotes awareness and better understanding of Carbon Credits Schemes or Carbon Finance Markets in Malawi in collaboration with the Environmental Affairs Department.
"One issue that has emerged is that as a country, Malawi does not have a locally contextualised and nationally recognized financial instrument to reward actions that promote or enhance environmental conservation," said Dr. Safalaoh.
Dr. Safalaoh said the Malawi Green Credit Scheme is therefore an innovative concept that is being explored and led by LUANAR scientists and other stakeholders to address this gap under the notion and premise of consumer reward schemes to create positive change.
He said the idea behind the proposed Malawi Green Credit Scheme is to reward citizens after they have taken actions to conserve the nation's natural resources and the environment.
"Specifically, the scheme is intended to encourage Malawians and other players to take actions that address issues of deforestation and forest degradation, soil erosion, water resource degradation, unsustainable agricultural practices, fisheries depletion and poor and unsustainable waste management practices. We argue that provision of sustainable incentives is one way of ensuring and enhancing adoption of innovative and sustainable agricultural and natural resource management practices in Malawi," he said.
Dr. Safalaoh further said after piloting in few areas in Malawi, the Scheme would undergo several practical tests for validation and buy in from the Malawi Government to explore ways on how this can be institutionalized in line with existing policy frameworks such as the National Climate Change Management Policy; National Climate Change Investment Plan (NCCIP) and the Nationally Appropriate Mitigation Actions, saying this will ensure sustainability of the scheme.
"People would then register to participate in the Scheme based on specific guidelines or standards that are being developed. The Scheme would have clearly defined actions and thresholds for which a credit would be earned," he said.
He said for each verifiable action that reduce degradation of natural resources and the environment at large, promotion of climate smart technologies and sustainable water resource and waste management practices, participants would then be rewarded with Malawi Green Credits that would then be converted to cash or other in-kind incentives for 'doing good.'
In her remarks, Director of Environmental Affairs in the Ministry of Natural Resources, Energy and Mining, Taonga Mbale Luka, commended LUANAR for the initiative saying the workshop would also provide a platform for sharing of experiences on carbon credits, global carbon market and the Clean Development Mechanism as a way of ensuring climate change mitigation and transitioning into a low emission development pathway.
"The workshop today therefore will focus on carbon credits and flexibility mechanisms that were put into force by the Kyoto protocol, and how this can relate to finalization of the Green Credit Scheme," she said.
Apart from LUANAR, the team working on the Malawi Green Credit Scheme includes experts from the Forestry Research Institute of Malawi, representatives from various Directorates including forestry, agriculture, land resources.