NEWS:
6 Dec, 2018
Share this Article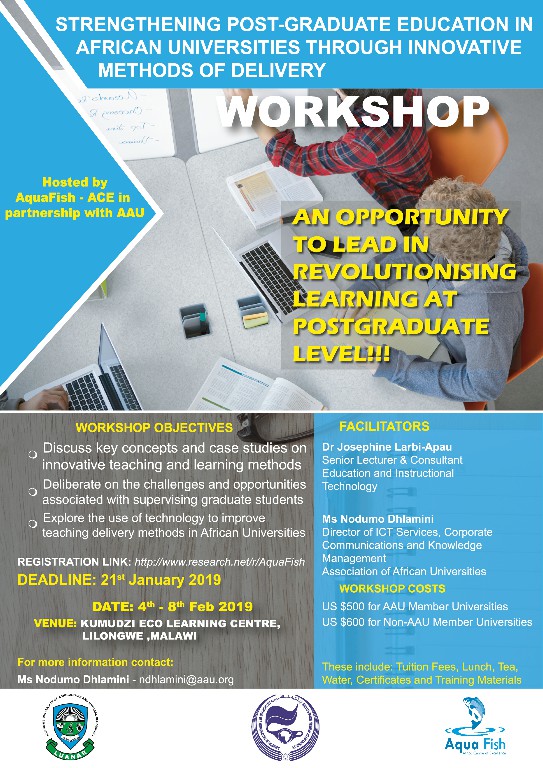 CALL FOR APPLICATIONS: STRENGTHENING POSTGRADUATE EDUCATION IN AFRICAN UNIVERSITIES THROUGH INNOVATIVE METHODS OF DELIVERY WORKSHOP
The Association of African Universities in collaboration with the Africa Centre of Excellence in Aquaculture and Fisheries Science (AquaFish –ACE) is pleased to invite Professors, Deans, Lecturers, Heads of Department, Academic Faculty, Teachers/Facilitators, and Faculty Trainers from Higher Educational Institutions across Africa to a workshop on Innovations in Teaching and Learning which is scheduled to start from 4th until the 8th February 2018 at Kumudzi Eco Learning Center in Lilongwe.
The objectives of the workshop are:
1. Discuss key concepts and case studies on innovative teaching and learning methods
2. Deliberate on the challenges and opportunities associated with supervising graduate
students
3. Explore the use of technology to improve teaching delivery methods in African Universities
We expect that faculty at your institution will gain skills and utilize e-learning knowhow at postgraduate level. Please register on the following link https://www.research.net/r/AquaFish.
The fee for Malawian nationals is US$150. Fees for the AAU member universities and non-member universities fees is at US$500 and US$600 respectively. The fee will cover include, tuition, lunch, teas, water, certificates and training materials.
Deadline for registration is 21st January 2019
For more information contact: Ms Nodumo Dhlamini – ndhlamini@aau.org