NEWS:
26 Jun, 2019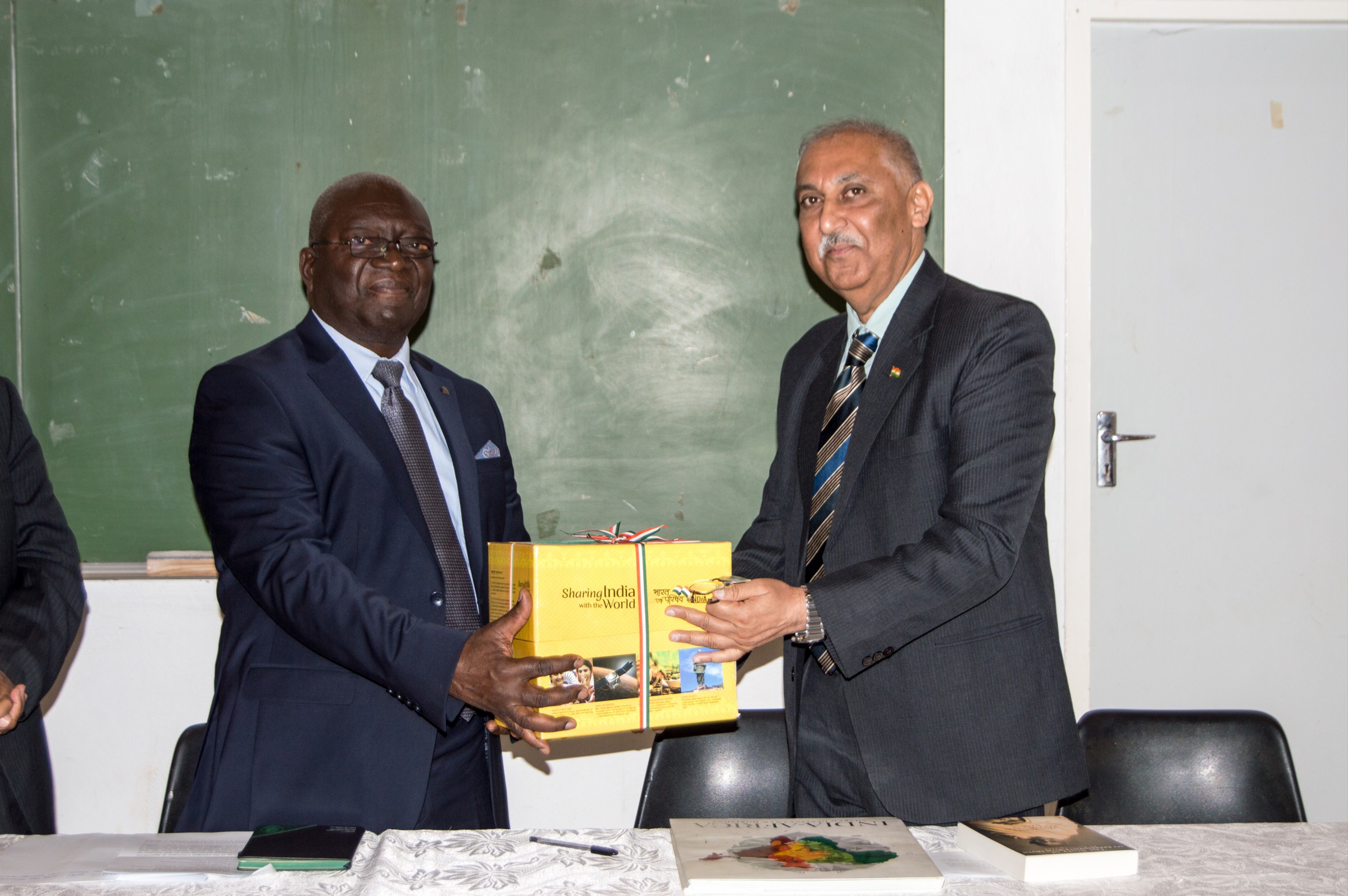 Anil handing over the books to Dr. Mwinjiro during the ceremony
The Indian High Commission to Malawi on Tuesday, the 25th of June 2019 donated various books to the Library at Bunda College of the Lilongwe University of Agriculture and Natural Resources (LUANAR).
The donation is part of the Indian Government's foreign policy which is to share whatever it has achieved especially in the field of education, agriculture and health.
Speaking during the presentation ceremony of the books to Bunda College library, Mr. Suri Anil, who represented the High Commissioner of India, said the Indian government plans to establish an Indian corner in the library.
"As we noticed that students from LUANAR have been going to India to further their studies, it was decided to create an Indian corner in the university so that students who are interested in pursuing their studies in India should go to the corner and learn about what India is." He said.
The books that have been donated are a collection of several books that contain information about India as a country and they are part of a programme called "Know India". Mr. Anil said that the programme is an important initiative of the Ministry of External Affairs in the Government of India.
As part of this initiative, a selected set of Indian theme books are being shared with the Indian missions across borders to facilitate propagation of knowledge and understanding of India's culture, diversity and its heritage, geography etc.
"These books are in various Indian languages and are intended for presentation and gift purposes to local education institutions, libraries and Indian cultural centres abroad. We decided to present these books to LUANAR because we know that some students go to India from here," added Mr. Anil.
Speaking on behalf of the College Director, Dean of Postgraduate studies, who is also Chair of Deans at the college, Dr. MacDonald Mwinjiro said the donation of the books has come at a right time as LUANAR has grown in terms of student numbers, staff and programmes. He added that the need for resources to support teaching, learning, research and outreach has also increased.
"The growth and changes the institution has experienced over the past few years have put a lot of pressure on its resources and infrastructure. For instance, Bunda College needs learning and accommodation space for the students, office space for staff, study and reading space for students, books and computers just to mention a few. The gift of books you have given us today will help us address some of the information needs of our library users and grow the collection of our library." He said.
Dr. Mwinjiro welcomed the idea of establishing an Indian Corner at the college and concluded his speech by assuring the Indian High commission delegates that the books will be well taken care of.
In his remarks, University Librarian of LUANAR, Mr. Geoffrey Salanje appreciated what the Indian government has done to Bunda college library. He appealed to the commission to extend this gesture to Natural Resource College and other LUANAR Satellite Campuses. The university librarian also asked the Indian Government to consider providing computers in the Indian Corner they are planning to establish so that people can access information online apart from the books.
Bunda College Library had just completed an exercise of withdrawing from its collections of irrelevant and outdated books. The exercise has left a lot of gaps that need to be filled with up to date books.